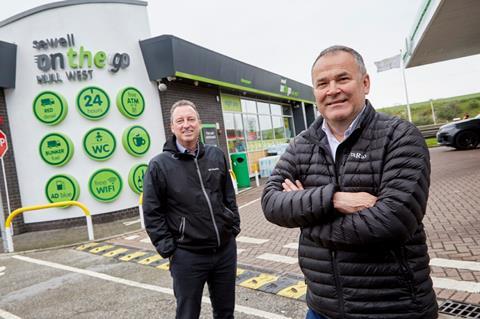 David Craven-Jones, operations director of Top 50 Indie Sewell on the go, is retiring today (May 26) after 25 years with the company.
David's first contact with the business was as a consultant in 1996, working with his father Bob Craven-Jones in supporting Paul and Dennis Sewell with oil supply agreement deals and other forecourt-related essentials.
After accepting full time employment as Sewell on the go operations manager in 2000, David then became operations Director a year later, at the same time as Patrick Sewell became managing director.
David's role includes making sure the business remains profitable and includes overseeing everything from fuel pumps to coffee machines and car washes.
David said there is one element of his career at Sewell which clearly stands out: "I love how Sewell is all about the people. It's like a family and I'm so proud to have worked for them for 25 years.
"You can't train someone to have a smile on their face or have common sense, be reliable or honest, but you can teach skills. Our team is fantastic and I've loved working with everyone because they're friends as well as colleagues.
"I've always been hands-on and I've helped to keep the business operational 24/7 365 days a year, regardless of holidays or time of day. If we have an issue, we sort it because it's all or nothing in operations.
"I'm known for my contacts and if I can't fix it, I know someone who can. I like to help and they call me the 118 man because of the 3,400 contacts I have in my phone."
He added: "I've had so many opportunities and highlights during my time at Sewell and I've enjoyed them all.
"I've seen the business grow from not employing many people to employing 450 across the whole of Sewell Group and becoming the brilliant company it is today. I'm incredibly proud to be associated with Sewell."
Patrick Sewell said: "David has been an integral part of everything Sewell on the go has done and achieved over the last two decades.
"However, he has also very much helped develop the wider team and ensure a seamless succession, so the business is well-placed for the future.
"I'd like to thank David for his huge contribution over the last 25 years and we wish him all the very best for his retirement. He will be very much missed."