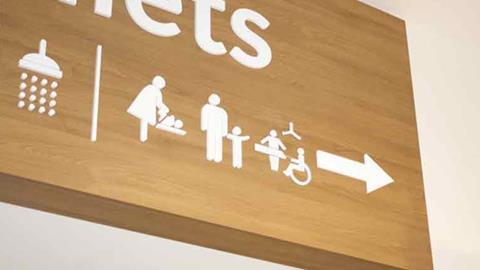 Funding of £1.27m to install facilities for severely disabled customers at 37 motorway service stations across England has been announced by the Department for Transport (DfT), in partnership with Muscular Dystrophy UK.
With this latest round of funding, 87 of England's 118 service stations will be set to have a fully accessible Changing Places toilet in the early 2020s, according to DfT.
The investment is part of the government's Inclusive Transport Strategy, which aims to provide equal access to transport by 2030, with assistance if physical infrastructure remains a barrier.
Transport accessibility minister Chris Heaton-Harris said: "It is hard to overstate the importance of something as simple as an accessible area for the over 250,000 people nationwide who have a severe disability.
"I want everyone to have the confidence to travel by any means so it is incredibly important for us to work with Muscular Dystrophy UK to provide Changing Places facilities at the majority of service stations in England."
Changing Places campaigner Kerry Thompson said: "This is incredible news. Having access to more changing places toilets means freedom. For not just myself but the 250,000 other disabled people and their families.
"Having this much-needed change to building regulations guidance will make life easier and more fulfilling. It opens up a whole new world for everyone that needs these life changing facilities. All these changes are helping myself and thousands of others to live the life that we choose, not one that is chosen for us."
Minister for disabled people, health and work Justin Tomlinson said: "This is such an important step forward for severely disabled people and their families who often find it difficult to enjoy a day out without worrying about accessing basic facilities. Our priority is to build on this by ensuring disabled people's interests are at the heart of our recovery from coronavirus."
Minister for care, Helen Whately said: "Dignity and independence is something many of us take for granted but can be a daily challenge of people with severe disabilities, especially when there is a lack of access to adequate toilet and changing facilities. All public spaces should cater for people with disabilities so they don't have to suffer discomfort, embarrassment, or even injury without access to a Changing Place."
The new funding coincides with an announcement by the Government that all places of assembly, recreation and entertainment with a capacity for 350 or more people will be required to install the Changing Places facilities if they are newly built or have a major refurbishment.