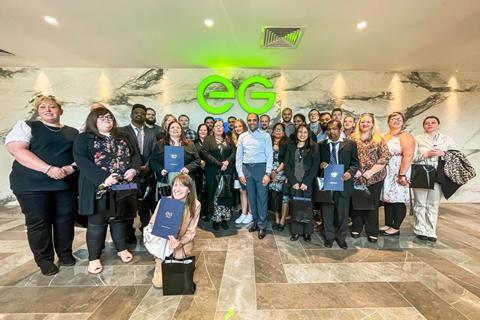 EG Group has announced a significant expansion of its apprenticeship programme after a successful trial and the graduation of its first 33 apprentices.
The apprentices all completed a 24-month Retailer Level 2 Apprenticeship programme.
Graduate apprentices from all parts of the UK attended the graduation ceremony held on Wednesday, 15 September at EG Group's head office in Blackburn.
From the cohort, two apprentices have been nominated for the National Apprenticeship Awards 2021, in the Rising Star and Apprentice of the Year categories. Twenty-five per cent of the apprentices graduated with a distinction, with 45% progressing into senior roles.
EG Group is further investing in more than 200 existing colleagues who will embark on various apprenticeship programmes ‒ representing over a six-fold increase on its inaugural apprenticeship trial.
These include finance, human resources, legal and information technology over the coming 12-18 months, with many taking important qualifications in these fields.
The company will also continue to create apprenticeship programmes for new hires in line with its strategic business priorities.
Alongside apprenticeships, EG Group is investing in colleagues' professional development and has embarked on a learning programme supported by a significant investment in the development of their leadership and management skills through programmes such as coaching and mentoring.
Colleagues can also participate in continuous learning, with access to a range of digital learning through EG Group's in-house Learning Management System, including audio books, podcasts, webinars, and online training seminars.
Ellie Morrison, customer service assistant, PFS (petrol filling station), EG Group, said: "I'm very grateful for the learning opportunity. I've acquired vast amounts of knowledge, I'm more organised and I've learned how to look at business from another perspective including branding and customer care and I know more about stock taking, deliveries and promotions. Now when I set my mind to something, I know I can do it – the apprenticeship has given me that confidence."
Vincent O'Donovan, head of learning and development at EG Group, commented: "We are immensely proud of our apprentices for the hard work and dedication they have shown. Our apprenticeship scheme supports our people planning and demonstrates a true commitment to internal investment, and learning and development across the organisation that is integral to the ongoing success of EG Group.
"We have a clear vision of getting everybody focused and heading in the right direction enabling our people to be the best they can be every day. We are fully committed to developing our talent for now and the future."