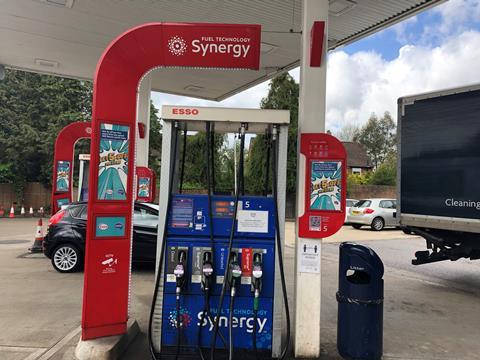 Esso has officially launched its new national Nectar redemption scheme today, enabling motorists to swap 300 Nectar points for a 5ppl fuel discount on a fill of between 10 to 60 litres.
The discount is going to be 'always on' and is available both through the Esso app and physical card swipes on site at the till point, except when paying with a fuel card. Customers need just 300 points on their Nectar card to be able to access the discount. They receive one Nectar point for each £1 they spend or each litre of fuel they purchase.
The rollout follows a successful trial of the scheme, which went live last October on 19 sites, and is now available on more than 400 sites, with the majority of Esso-branded forecourts expected to be able to offer the scheme to motorists by the end of the year – excluding Tesco Alliance sites.
Genie Rendell, loyalty manager at ExxonMobil said the company was very excited about the Esso Nectar redemption offer.
"Our partnership with Nectar was launched in 2019, and we've seen a lot of success with it in the past two years. We've got a lot of data from the wide Nectar consumer base, have launched some really great offers nationally, and we've really grown and strengthened our partnership over that time.
"However, there was always a missing piece and the extra part we really wanted to launch, in order to strengthen the partnership further and increase and improve our consumer loyalty offering. So now we will be launching this 'spend your Nectar points offer to receive a fuel discount'.
"This also goes in line with other Nectar partners out there which are also collect and spend so we will be ticking that box as well, being a collect and spend partner."
Rendell said the company had done a lot of research and found that redemption widely appeals to its consumer bases, as redemption is effective at influencing customer behaviour.
"We know that fuel prices and fuel discounts are very much top of mind, and we know that fuel rewards are highly valued.
"When asked what sort of fuel redemption offers are most appealing – ie voucher or saving up for gifts later on – we found that the ppl discount offer has the highest value to consumers, with 49% of males and 31% of females preferring it, which is why we have chosen that particular mechanic, as it was a lot more compelling than other offers. Instant gratification is very prominent on consumers' minds in all aspects of retail."
The research – of 2,500 'highly engaged' Nectar consumers - also revealed that 80% of motorists would change their behaviour in terms of where they refuelled, if they were offered a discount, with 5ppl being the 'sweet spot'. Eighteen per cent of those polled said they would refuel at Esso more often; 16% said they would switch all of their fills to Esso; while 60% of consumers were 'very interested' in spending Nectar points on fuel.
Despite the lockdowns and limited marketing on the pilot sites, Rendell said the trials were very successful, but the redemption scheme would benefit from 'significant' media activity from now until the end of August – including activity with Sainsbury's, as well as radio, social and digital media, plus Nectar amplifying the offer within its own channels from August.
Pat Rutherford, Esso retail sales manager, said: "We're trying to enhance the attractiveness of the Esso brand and complement everything that exists today by offering this as a step change improvement for consumers that brings benefit to our customers as well.
"We're constantly investing in different ways to do that – and this is complementary to a lot of the other elements we've been introducing to the Esso brand over the past few years. In the end you want an attractive offer for our branded customers and for the consumers, and without attracting the consumers then you're not really differentiating yourself from the choices they have. We're working with them on that journey - developing the Esso brand."
Rutherford said the Nectar partnership had brought tremendous insight to the company, improving the understanding and the ability to offer effective promotions on the issuance of Nectar points to consumers in a way they find attractive.
"We've seen that because we've seen the retention of customers who are part of the Esso Nectar programme being strong," he said. "Therefore, it's a very good steady base for our business.
"We've found that it's a route to communicate effectively with consumers, that's had tremendous benefits. The creativity that exists within the wider Nectar partnership is something that's complementary and we're enjoying being part of that."
The fuel discount is available across all the fuels.
"At a high level the uptake has been in line with our expectations, on average, and in some locations significantly ahead of where we expected it to be. In terms of volume performance, it's been around a 2% increase in fuel sales level so far," said Rutherford.
"We've seen customers treating themselves a little bit in terms of their desire to move to premium grade. In terms of behaviours that's complementary – people trying premium grades.
"We're also seeing that consumers will increase their frequency of visiting – they see a reward at the end of it, either through collecting or redeeming it. Where they may have visited other sites before, they're now coming to us more frequently."