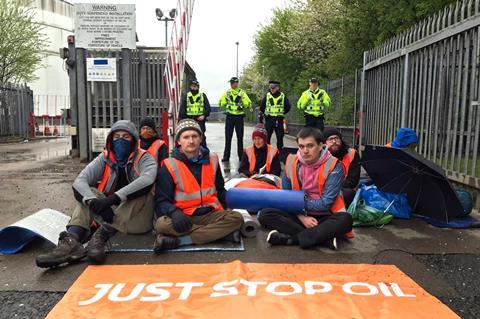 While climate protesters have begun appearing before courts in England after disruption at oil terminals and forecourts, the group Just Stop Oil has been stepping up its activities to Scotland.
Four people have been banned from every forecourt in England and Wales after being charged with causing criminal damage worth more than £5,000 at the forecourts of the Clacket Lane and Cobham services on the M25.
Officers from Surrey Police were called to both service stations just after 7am on Thursday, 28 April following reports that a large number of protesters were at the sites and were gluing themselves to the pumps, to forecourt signs and to vehicles. They were also blocking access and stopping motorists from using the pumps.
Significant damage was caused to the pumps on both forecourts, with a total of 35 pumps damaged at Extra MSA's Cobham Services, and a further 20 pumps damaged at Roadchef's Clacket Lane services. The HGV pumps at both sites were not targeted and remained open.
A spokesperson from Roadchef reported the forecourt was able to reopen the next day and said: "We apologise for any disruption that was caused by a small group of individuals at our eastbound Clacket Lane services last week. We worked closely with our partners and the local authorities to safely remove any obstacles that caused the temporary closure of the fuel forecourt and have now resumed normal service."
Nathan McGovern, 22, of White Horse Lane, Tower Hamlets, London, Amber Alexander, 18, of Withdean Court, Brighton, Louis Hawkins, 22, of Dewe Road, Brighton and Rosa Sharkey, 22 of Dewe Road, Brighton have been charged with causing criminal damage of over £5,000.
They appeared at Crawley Magistrates' Court on Friday afternoon (29 April) and were released on police bail with conditions that stipulated they must not enter any petrol station or obstruct the entrance or exit to any part of a petrol station in England and Wales, or affix themselves to any part of a petrol station or petrol tanker. A further four people have been released under police bail and an additional 27 are still under investigation.
Superintendent Graham Barnett said: "Around 40 officers were involved following the activity by protest group Just Stop Oil at Cobham and Clacket Lane Services this week.
"While we are required to facilitate peaceful protest, we will always take action against those who break the law and significantly impact on the lives and livelihoods of others."
In Scotland more than 30 people have been arrested and charged after members of Just Stop Oil blockaded the Nustar Clydebank facility in West Dunbartonshire for around 60 hours.
The protest began at about 4am on Tuesday when activists climbed onto tankers and blocked the entrance, while others entered the oil terminal.
Just Stop Oil said the protesters were there for about 60 hours before the action ended on Thursday.
Police Scotland said 31 people were arrested and charged in connection with a number of offences.
The force said 15 have been charged with breach of the peace and 16 with a contravention of a section of the Criminal Justice and Public Order Act 1994 which relates to trespass, and alleged malicious mischief.