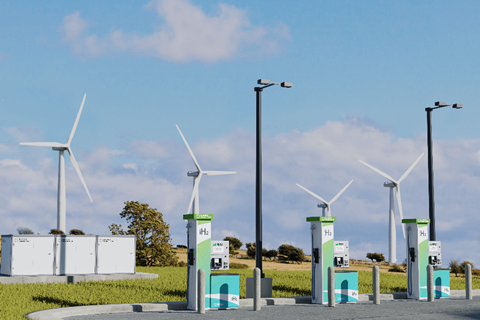 A new suite of equipment and software to handle hydrogen refuelling has been launched by Gilbarco Veeder-Root.
The company announced it aims to be a become a pioneer in enabling hydrogen-powered transportation and unveiled compression, dispensing and software solutions to support a network of renewable or low-carbon hydrogen refuelling stations around the world.
The company said it was developing new technologies and creating partnerships to bring solutions to market that will allow existing fuel retailers and other stakeholders to offer gaseous hydrogen to serve an ever-increasing number of hydrogen fuel-cell powered vehicles.
It added that hydrogen complemented its compressed gases and end-to-end electric vehicle charging infrastructure, and augmented its support to its customers' effort to meet growing demand for low-carbon fuels.
Joel van Rensburg, general manager of hydrogen at Gilbarco Veeder-Root, said: "Energy and mobility are evolving rapidly and it's clear that hydrogen is a key factor in helping us deliver on the low carbon, zero-emissions future that we are all working towards.
"It is the optimum solution for many commercial vehicles, including trucks, buses and, in some cases, passenger cars. It's crucial that we continue to deliver new, accessible, and safe solutions to meet our customers' evolving energy needs. As leaders in alternative fuels, Gilbarco Veeder-Root remains at the forefront of rapid technological changes, and we'll be announcing several new solutions and strategic partnerships over the coming months.
"With over 150 years' experience in fuelling and transportation, including 30 years in compressed gas delivery systems within our ANGI Energy Systems business unit, it is paramount that we continue to meet and exceed consumers' expectations during the refuelling experience. We continue to focus on providing our customers with peace-of-mind that we have the right solutions available to meet all their service, maintenance, compression, dispensing, and software support needs today, and can scale globally to support their growth needs in the future. With our expertise in consumer experience and loyalty, we also understand the importance of delivering the latest innovations around multimedia and frictionless payment to create seamless refuelling experiences for everyone."