Plans to install EV charging points across a UK-wide portfolio of pubs, restaurants and hotels have been announced by the UK's largest pub and brewing operator, Greene King.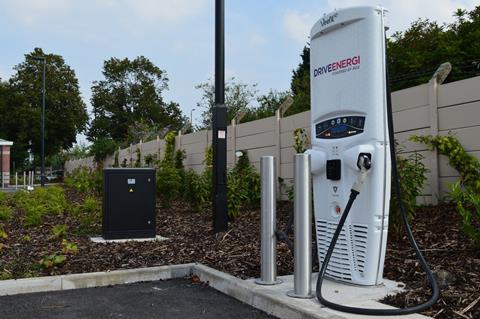 The brewer has agreed a deal with Drive Energi, which will deploy the EV charging points in strategic locations across Greene King's 2,700 sites. These include national brands Farmhouse Inns, Chef and Brewer and Hungry Horse.
The partnership, extending through to 2040, will see Drive Energi build, own and operate one of the UK's largest retail-located rapid charging networks, with the first locations going live across the North West this year.
The contactless payment enabled, Tritium 50kW DC charge points will be powered by renewable energy and available to use via a Pay As You Go tariff, 24 hours a day, 365 days of the year with no subscription required.
Drive Energi CEO James Moat, commented: "This is a significant milestone for Drive Energi and we are proud to be working in partnership with Greene King on this exciting project as the UK's EV charging sector will play major role in leading a green recovery post-Covid-19.
We are committed to the roll-out of accessible public charging points across the UK and drivers can expect to charge from over 300 Drive Energi locations by the end of 2021."
Tony Hodgson, head of estates at Greene King, added: "We've been working hard developing our sustainability plans as we continue to build a greener business. With more people buying electric cars in a bid to be more environmentally friendly, we want to support our customers who come to dine or stay with us by offering electric charging ports in our pubs that are able to do so."
The initial deployment will focus on sites across the North West which are expected to be fully operational by 2021, with the wider roll-out taking place in phases across the UK over the next three years. Drive Energi is a subsidiary of energy investment company Box Energi.