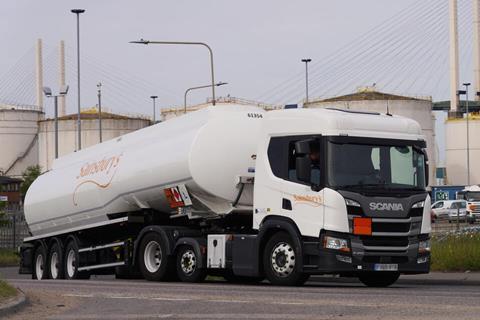 Greenpeace claims it has caught tankers from Tesco, Sainsbury's, Asda and Morrisons filling up at an Essex oil terminal shortly after a shipment of Russian diesel was delivered.
It said it had filmed the supermarket tankers on Wednesday May 18 and Thursday May 19 arriving at the Navigator Terminal, just hours after a 33,000-tonne shipment was delivered.
Tankers from Tesco, Sainsbury's and Morrisons were then tracked and pictured offloading diesel at forecourt storage tanks in Norfolk and Bedford. Greenpeace said this meant drivers could be unwittingly filling up with diesel that is directly funding Russia's war in Ukraine. An Asda tanker was also pictured leaving the terminal but was not tracked to its destination.
Greenpeace has written to all four supermarkets demanding an explanation, and asking them to call on the government to ban Russian fossil fuels from entering the UK.
Greenpeace UK oil and gas campaigner, Elena Polisano, said: "Supermarkets were quick to remove Russian vodka from shelves and rename their chicken Kievs as chicken Kyivs.
"Customers will be outraged if supermarkets are asking them to donate to Ukraine at the till, but passing their money to Putin at the pump.
"If Tesco, Sainsbury's, Asda and Morrisons truly want to stand by Ukraine, they should make sure they're not filling their pumps with Putin's diesel which is directly funding his bloody war. At the very least, they should demand that the government implement an immediate ban on imports of Russian fossil fuels."
Greenpeace has also released the results of new polling it commissioned from YouGov which found 73% of people want the UK government to bring in an immediate ban on imports of Russian oil and gas.
The poll also shows that 74% of the British public are unaware that fuel on sale at supermarket petrol stations may contain Russian diesel and 71% want supermarkets to immediately end the sale of Russian diesel.
The UK has declared a ban on the arrival of Russian-flagged and Russian-owned vessels, but Russian fossil fuels are still arriving in tankers registered to other countries. The government has said it will ban Russian oil imports by the end of the year.
Greenpeace has contacted each of the four supermarkets for comment. The British Retail Consortium confirmed that Russian diesel had not yet been phased out.
Andrew Opie, director for food at the BRC, said: "Our members are fully committed to phasing out Russian oil in line with the government's decision and are working to do so as quickly as possible while ensuring good supply for customers."
A Sainsbury's spokesperson said: "We stand together with the people of Ukraine and have taken a range of steps to show our support – from helping to fund the humanitarian effort on the ground, to removing products from our stores which are 100% sourced from Russia.
"Today we have confirmed that we are already working to reduce the amount of diesel we sell which comes from Russia and we will stop selling diesel from Russia in our petrol filling stations in line with the UK's action against Russian oil imports, by the end of the year.
"This is a complex process which we are committed to working together with the rest of the UK fuel industry and government to achieve, as part of the UK's action against Russian oil imports."