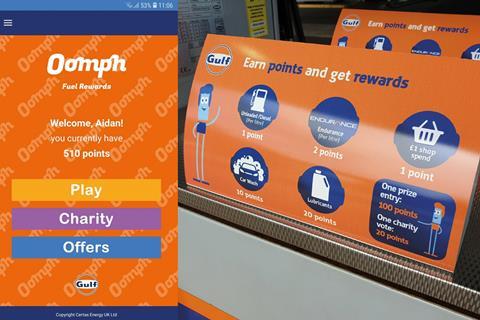 Gulf Retail has added considerable 'Oomph' to its award-winning forecourt loyalty platform. From this week, major brands including M&S, SuperDry, Gap, Argos, Pizza Express, Halfords and Expedia now feature with discount offers, E code savings and cash back available instore and online across a huge range of big-name retailers.
In addition, participating customers can now enjoy free online educational courses across a wide variety of subjects along with POWR, an evidence based digital well-being tool that promotes health, reduces stress and improves contentment.
It's the latest addition to 'Oomph' which won Best Oil Company Initiative at the Forecourt Trader Awards 2020.
The new additions demonstrate the loyalty platform's versatility to reflect the changing behaviour patterns of UK consumers, according to Gerry Welsh, retail marketing manager, Certas Energy.
"When Oomph was launched our immediate goal was to come to market with a fresh and exciting loyalty scheme that would be embraced by our Dealers and could evolve in line with consumer trends. Participation in Oomph by Gulf retailers and their customers is increasing exponentially and our latest add-on's strengthen an already powerful offering. Lockdown has had a profound effect on us all in so many ways including our desire to achieve a better work life balance. This latest initiative puts health, well-being and the adult populations newly found zest for learning and re training quite literally at their fingertips."
Utilising latest technologies to drive new business and strengthen customer loyalty, Oomph now claims to be the market leader for remote customer retention and the number one promotional tool for forecourts up and down the country. It provides dealers with the tools to delve deep into the shopping basket of a customer and respond accordingly with dedicated offers and calls to action. For consumers it means savings on fuel and shop purchase, big ticket monthly prizes, major-brand discounts and an option to 'donate' points to local charities and grass root organisations.