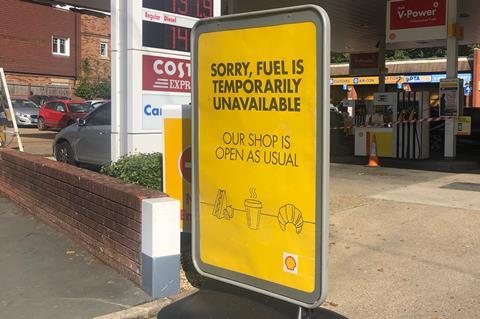 Independent forecourts are not getting sufficient supplies of fuel compared with other sectors, according to PRA executive director Gordon Balmer.
He was speaking after the daily survey of PRA members found the percentage of forecourts sites that have run dry was marginally down today, but the number of sites with both petrol and diesel in stock has fallen.
In the survey of 1,100 sites across the UK including motorway service areas, 47% of sites reported having both petrol and diesel in stock, compared with 52% yesterday.
Sites with one grade in stock were at 27% versus 21% yesterday, and 26% were dry, down from 27% yesterday.
Balmer commented: "While the situation is similar to recent days, there are signs that it is improving, but far too slowly. Independents, which total 65% of the entire network, are not receiving enough deliveries of fuel compared with other sectors.
"Until independents start getting frequent supplies, we will continue to see long queues at forecourts. It is vital now to ensure we get fuel to all parts of the country in order to reduce queues and reassure the public again".
"PRA members are reporting that while they are continuing to take further deliveries of fuel, this is running out quicker than usual due to unprecedented demand. We would urge drivers to maintain their buying habits and only fuel up as and when needed to ensure there is plenty of fuel to go around.
In a statement yesterday Balmer also criticised the treatment of forecourt staff by some motorists. He said: "We are also continuing to hear of further instances of forecourt staff experiencing a high level of both verbal and physical abuse which is completely unacceptable."