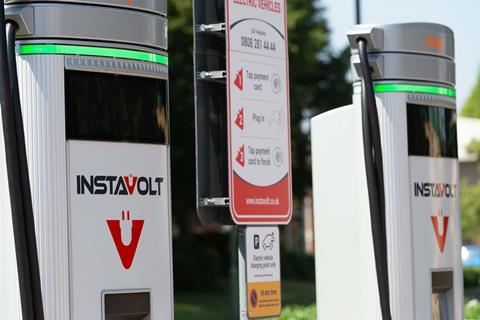 EV charging network provider InstaVolt has announced Energy Assets Networks (EAN) as an authorised supply chain partner to help accelerate the roll out of its infrastructure.
InstaVolt describes itself as one of the country's fastest-growing EV network operators and plans to expand its install base from its current 600 units to more than 5,000 by 2025.
The company's new affiliation with EAN – an independent distribution network operator – will realise the asset value of its charging infrastructure in support of its expansion plans, according to Matthew Tunstall, director of operations.
"What we particularly like about EAN is the quality and efficiency of their in-house technical and legal teams, which means we can get new locations up and running quickly," he said. "We are also using Energy Assets' automated metering technology to provide half-hourly data to help us monitor energy consumption."
The InstaVolt network is available 24/7 under a pay-as-you-go model and was the first network to introduce contactless payment with no monthly subscription or membership cards required. The company has established corporate partnerships with major brands, including McDonald's, KFC, and Starbucks franchisees. The company has also achieved success with gyms, supermarkets and local councils.
Symon Gray, head of networks at Energy Assets Networks, said: "We are delighted to be working alongside InstaVolt as they accelerate their growth plans. The move to net zero requires significant investment in EV charging networks and we are looking forward to playing our part in enabling this transition.
"We can do this not only by providing competitive asset values for infrastructure but by also speeding up the legal process to get charging stations built as quickly as possible."