Electric Vehicle charging company Mer has teamed up with flexible workspace provider IWG plc to bring 'cutting edge' charging facilities to clients.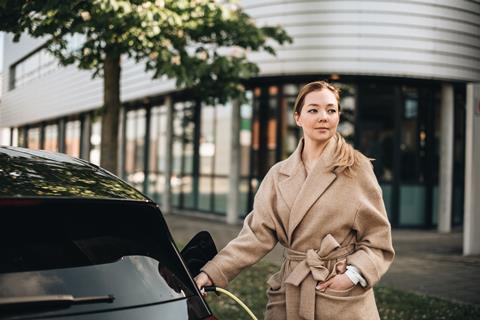 Electric vehicle charging specialist Mer has teamed up with the world's largest flexible workspace provider IWG plc to bring EV charging facilities to clients.
The deal will see Mer install 25kW DC rapid chargers at a number of IWG locations around the UK, supporting IWG - the parent company of Regus, Spaces, HQ and Basepoint - with its carbon-reduction targets.
With the ban on the sale of new diesel and petrol vans and cars in the UK set for 2030, Mer says one of the biggest challenges for the EV industry is ensuring there is sufficient charging infrastructure - in the right places - to counter motorists fears around running out of charge and ensuring they can fill up regularly and conveniently.
One critical element in this infrastructure the company believes is the need for charging facilities at offices and workspaces - so employees and visitors can top-up their vehicles during the workday.
Mer's UK managing director, Anthony Hinde, said: "Workplaces are an obvious charging hot spot, and will be especially used by those unable to charge at home over night. This increases confidence for EV adoption of those who do not have the possibility of charging at home."
He said by bringing 25kW DC chargers to its workspaces, drivers can charge while their car sits unused during the day. IWG will also be making a significant difference in supporting the opportunity for its customers to make the switch to EVs.
The company claims that while 7kW AC chargers - the kind typically found in personal domestic use like garages and driveways - can charge an EV with a 60kW battery overnight, a 25kW charger can bring the charge to over 80% in around one to two hours, making them a great choice for office environments, where IWG 's visitors, clients or employees can add approximately 100 miles to their vehicles in less than an hour.
Hinde said: "IWG helped change the way people work by making office space flexible and affordable - so it's a pleasure to be partnering with them to ensure users of their facilities can embrace the future of EVs confident in being able to charge at work.
"Now, more than ever, there is a need for businesses to invest in EV charging facilities for their customers, clients and colleagues. Those businesses that do - like IWG - will be making a significant contribution not just to accelerating EV adoption, but to helping tackle climate change as well. It is also important to note the savings for employees using salary-sacrifice schemes to lease vehicles. Typically, with the benefits in BIK incentives, as well as road tax and fuel savings, high-rate taxpayers can save on average approximately £5,000 per year by switching to electric."
IWG's UK chief operating officer, Simon Loh, said: "Our network of thousands of workplaces globally empowers millions of customers to work efficiently closer to where they live, enabling them to avoid long commutes and reduce their carbon footprint. This new partnership with Mer will further support our customers with the growing popularity of EVs."
Mer, which launched earlier this year, is focused on installing EV infrastructure into high-usage, high-footfall locations like workplaces, public places, car parks and residential areas where people don't have access to their own garages or driveways.
The company currently operates close to 300 chargers across the UK, with a mix of ultra-rapid and fast chargers.
Mer has also signed a series of roaming agreements this year - again with the focus on making charging easier for end users by promoting interoperability. These include partnerships with Zap-Map, Octopus Energy's Electric Juice Network, Allstar and New Motion.
Zap-Map, Octopus Energy's Electric Juice Network, Allstar and New Motion.
Ends.
2.7 million kilowatt hours of green energy – enough to power a typical EV around the planet 380 times.
EQUANS was subsequently appointed to accelerate the provision of EV chargers and encourage drivers in the region to make the switch from petrol and diesel.
The charge points across Bradford, Calderdale, Kirklees, Leeds, and Wakefield have since provided more than nine million free miles to over 10,000 registered drivers.
The region also now boasts the most rapid EV chargers across any county (excluding London); suggesting the scheme has raised awareness of low emission vehicles and promoted purchase.
Across the West Yorkshire region, there are estimated to be 500 taxi and private hire vehicles and it is hoped that the designated bays, coupled with the growing network of chargers across the wider area, will eventually motivate all taxi drivers to make the switch - further reducing harmful Nitrogen Dioxide emissions across West Yorkshire.
It starts with providing drivers with accessible and reliable charging points, helping to encourage and support more people in choosing a low emission vehicle.
th October 2021. After which the chargers across West Yorkshire will become part of the GeniePoint network and will continue to be owned and operated by EQUANS.th October 2021.