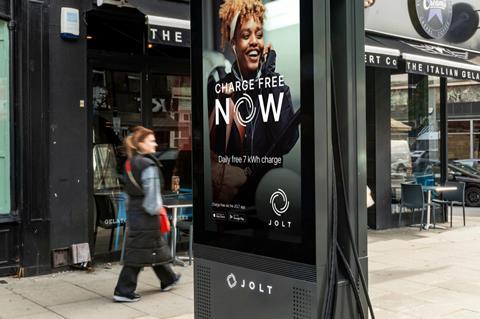 Global EV charging company Jolt has launched in the UK with the aim of providing a network of "free, fast and clean roadside charger stations" to EV drivers.
Initially in partnership with the London Borough of Barnet, following a £2.1m funding grant from the Local Electric Vehicle Infrastructure (LEVI) Pilot Project, the company plans to roll out thousands of charging stations across the UK in the coming years as part of its "mission to help reduce barriers to EV ownership and accelerate e-mobility in the UK as a sustainable transport option".
LEVI is a government scheme supporting the rollout of EV charging infrastructure. LEVI aims to deliver a step change in the expansion and growth of on-street charging infrastructure across the country.
Jolt says its programme will enable EV drivers to have access to 7kWh, or around 30 miles, of "free, fast and clean EV charging per day" with approximately 15 minutes of charge time and without the need for at-home charging facilities. It is estimated one third of drivers do not have access to off-street parking.
Based on the company's internal research, EV drivers who charge with Jolt can save up to £840 annually on charging expenses.
Jolt says its DC fast chargers offer the UK's standard connecters, powering and ensuring compatibility with current EV models. The first installations of the Jolt charge stations in Barnet has begun, with the network rolling out over the next few months.
Transport minister, Jesse Norman said: "The Government is giving local authorities across England additional help to energise their chargepoint roll-out plans. Today's commitment will lead to thousands of new chargers being installed, and plans for tens of thousands extra in due course, so that more people than ever can make the transition to using EVs."
Councillor Alan Schneiderman, cabinet member for Environment & Climate Change, said: "We are a council that cares for people, our places and the planet and that means we have a duty to ensure the air we breathe is clean. So, I'm very pleased to see London's first Jolt charge points being installed in Barnet as another step towards making transport in the borough more environmentally friendly.
"As well as clean air, our ambition is for Barnet to be net zero by 2042 and, as such, we need to continue to work with our communities and partners to find the right solutions to get us there – joining the Jolt EV charging network is part of this."
John Rainford, UK Country Manager, Jolt, said: "Accelerating e-mobility, in a way that's equitable and sustainable to all involved, is at the heart of what we do at Jolt. We are proud to express our commitment to making EV charging accessible through seamless customer experience, especially for those without home charging, and empowering EV ownership in the UK, while helping minimise emissions created by transport.
"Thanks to our partners who are working towards the same ambitious net zero goals, we anticipate accelerated growth and expansion of Jolt's EV charging infrastructure across the country."