-Sensei behind launch of first autonomous store on a petrol station.
-Store is installed on key Galp-branded site in Lisbon.
-The majority of Brits (70%) want to have autonomous retail experience when they shop, according to Sensei research.
-Further autonomous convenience store launches at petrol stations on the horizon.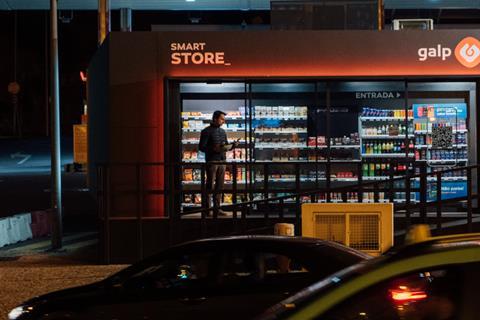 Autonomous store specialist Sensei claims to be the first in Europe to provide an autonomous experience for petrol station customers as it teams up with Galp, one of the largest petrol station networks in the Iberian Peninsula. Further autonomous convenience store launches at petrol stations are on the horizon.
As a result of the recent collaboration between both companies, Sensei has created a 323sq ft autonomous convenience store at one of Galp's key locations in Lisbon. The store offers a number of non-perishable goods, food, snacks and beverages to customers and includes a network of cameras mounted in the ceiling and sensors in shelves to detect the items shoppers pick or leave.
The autonomous software creates and keeps track of each person's virtual shopping bag and charges them automatically via the app, with credit card payments soon to follow, upon exiting the shop. Customers now no longer have to scan or wait in line to pay for their treats.
Based on Sensei's 'Plug & Play: Autonomous Pod', an autonomous concept, which allows for ultrafast deployment and maximum flexibility, the company claims the mobile convenience store was fitted and operational within just a few days. The pod is open to customers from 8am until midnight every day with 24/7 access becoming available in the next month.
Vasco Portugal, CEO at Sensei said: "This is an incredibly exciting time for Sensei and we are proud to be leading the way with autonomous innovation in Europe in areas where people will truly benefit day-to-day.
"The newly opened petrol station convenience store is a shining example of how we have expanded our reach beyond powering bespoke autonomous stores for large grocers to now also offering modular and mobile 'Plug & Play' Pods that can be easily adapted to suit any and all retail needs. We are thrilled to be pioneering this concept in Europe with Galp. It is also the first of many petrol and service station stores that we look forward to launching with different partners in the coming months."
This latest announcement the launch of Sensei's first fully autonomous, over 1600sq ft retail store in Europe with Sonae's Continente brand back in May 2020. With the retail tech provider's recent research showing that the majority of Brits (70%) want to have autonomous retail experience when they shop, Sensei believes the UK market can no doubt expect more innovations arriving on their high street soon.
Teresa Abecasis, Executive Board Member and COO at Galp said: "We are so excited to launch this collaboration with Sensei for our customers. This new autonomous pod, which is mobile and street facing, enables us to offer more for people walking by on the street or stopping at the station for food, enabling them to purchase grab and go meals, snacks, drinks and other products with the ease and speed that only autonomous technology provides while avoiding the queues caused by fuel purchasers.
"We are also eager to capitalise on the data captured through Sensei which will help us make the store increasingly better by implementing a highly efficient restocking operation and offering the most attractive products for each specific location. For example, this fully autonomous store will allow for smaller gas stations in lower-traffic locations to offer non-fuel products to customers through a profitable operation."
After marking the first autonomous retail technology to be implemented at a petrol station, Sensei has a number of new collaborations on the horizon including further autonomous convenience store launches at petrol station