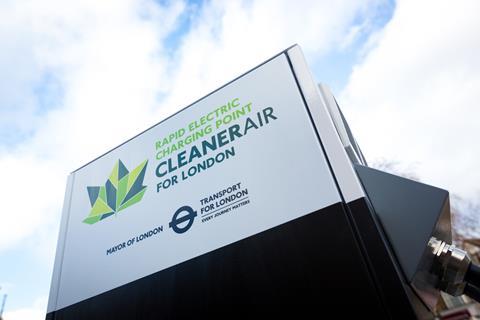 Transport for London (TfL) has awarded Zest a contract to roll out 39 new EV charging bays across 24 locations in south and south-west London by the end of 2024, including outer London boroughs such as Sutton and Bromley. The charging infrastructure will be placed in parking bays near key routes used for essential road journeys typically made by high mileage, commercial users – including taxis and freight.
Part of TfL's EV Infrastructure Delivery Programme, these new EV charging bays further expand London's charging network. The Mayor is fulfilling his pledge to unlock land owned by TfL and other members of the Greater London Authority, including the London Fire Brigade, the London Ambulance Service and the Metropolitan Police, as well partners in the NHS, to increase the density of the rapid charging network across the city. This innovation sees TfL take public land to the private market to help bring the infrastructure needed to keep London at the forefront of the EV revolution.
London leads the UK in the take-up of EVs, with 103,000 plug-in electric cars and vans already registered in the capital. With close to 13,000 charge points, London currently has 31% of all EV charging infrastructure across the UK, more than any other UK region. And, as of February 2023, London has the most public rapid charge points of any European city. Around 880 of the thousands of EV charging points to be found across the capital are rapid or ultra-rapid charging points that deliver a full charge within 30 minutes – this includes 300 delivered by TfL. The number of rapid charging points across the capital also includes London's 26 rapid charging hubs
David Rowe, TfL's director of investment delivery planning, said: "These 39 bays are the start of our new programme to boost the number of rapid charging points in the capital by making public land available to private sector providers to support those making the switch to zero emission vehicles. More rapid charging points are key to encouraging people and businesses to make the transition to EVs, giving drivers confidence that they have a place to power up in a short period of time. We're glad to be working with Zest UK to expand the number of EV charging points across the capital, adding to the city's extensive network.
"As we work towards the Mayor's commitment to achieving Net Zero carbon by 2030, we hope the easier access to rapid and ultra-rapid charging points will encourage those who need to drive in the capital to consider the greenest vehicles for their next car or van which will have the most significant impact in cleaning up London's toxic air and tackle climate change."
Robin Heap, Zest CEO, said: "The UK needs an injection of serious infrastructure to meet its net zero goals, and it is farsighted public sector organisations who are taking the lead. Placing rapid and ultra-rapid charging points directly onto London's high-volume arterial roads will make it easier for drivers to choose electric and improve the air quality for local communities. We're looking forward to providing and operating these charge points in partnership with Transport for London."
As part of its Electric Vehicle Infrastructure strategy, TfL's modelling predicts that if current demand continues, the city will need at least 1,600 rapid charge points by 2025 and up to 3,900 by 2030. To help achieve these numbers, TfL is looking at how to bring more of its own land into use for EV charging bays and is working with other members of the GLA family and borough councils to bring further sites across London.