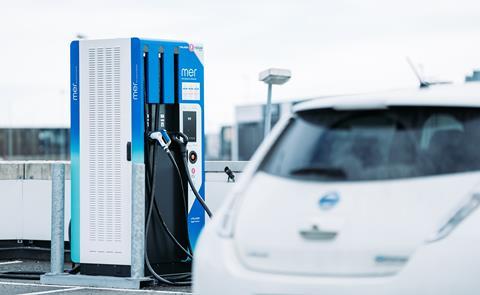 Mer, the UK's newest entrant to the EV charging market and part of Norwegian renewable energy giant Statkraft, has announced a roaming partnership with smart EV charging specialist NewMotion, a Shell group company which claims to be one of the largest providers of access to public charge points in the UK.
The agreement means customers using the NewMotion or Shell Recharge charge card or app can now charge their EV at 160-plus charging points operated by Mer, easing driver concerns about range anxiety.
The deal is part of Mer's commitment to extending roaming capability for the UK's EV drivers to make charging as seamless as possible.
Anthony Hinde, Mer UK's managing director, said: "Mer believes that to support the transition for drivers to electric vehicles, we have to make charging as easy, simple and accessible as possible.
"Roaming is a key element to that. We have to help reduce the range anxiety customers feel about switching to EVs, and being tied to individual brands when it comes to charging only exacerbates this issue.
"Instead, as an industry, we have to forge partnerships like this one so drivers can be confident they can charge quickly and easily at any station without needing to carry multiple memberships. We are committed to this and working with numerous partners to execute many such agreements, focusing on the drivers."
Alan McCleave, regional manager UK and Nordics at NewMotion, said: "At NewMotion we see it as our mission to enable everybody to drive as many miles as possible powered by clean energy. Providing easy access to public charge points via roaming is important for a seamless EV charging experience, lowering the barrier to e-mobility. To provide for this we currently collaborate with over 200 roaming partners in Europe and 20 in the UK, including Mer."
Mer only recently launched into the UK market, and has set its sights on an under-served area of the country's EV charging infrastructure - but one that it says is critical if the UK is to meet its ambitious zero-emission driving targets.
The company is focused on getting charging stations into businesses, organisations, key retail locations and into areas managed by local authorities where there will be high usage.