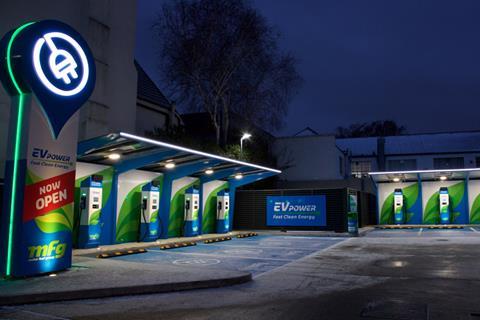 MFG has signed an agreement with Swarco Smart Charging for the supply of 150 ultra-rapid EV chargers at sites across the UK.
Twenty eight sites will have been electrified by the end of 2021, with more than 200 chargers deployed. The deal was announced as part of MFG's commitment to expanding its charging infrastructure.
MFG has committed £400m to the electrification of its forecourts with an end goal of making charging an electric vehicle as quick, convenient and efficient as filling up a combustion vehicle. Swarco is supporting MFG as a technology partner, assisting with the deployment of charging hardware, and back-office software.
Justin Meyer, managing director of Swarco Smart Charging, said the partnership will be a pivotal move for the UK's EV charging infrastructure. "The UK's charging network has been in development for a long time and our partnership with MFG will see that develop rapidly in the next few years.
"Thanks to the collaborative nature of the agreement, we'll be working extremely closely with MFG with the sole purpose of improving the convenience of charging an EV. To see 28 forecourts progressing towards electrification, is a major step towards expanding EV adoption."
According to Swarco, the rapid chargers will enable EV owners to charge their vehicles with up to 100 miles range within 10 minutes.
Ed Chadwick, director of EV & strategic projects at MFG, said the partnership represents a significant increase in EV accessibility. "The electrification of forecourts is a major win for the EV market. One of the biggest challenges of EV ownership is the management of battery life, now, thanks to our partnership with Swarco, EV owners will be able to plan their routes in the same way as a combustion engine vehicle owner.
"We'll be working closely with Swarco moving forward to continuously develop our charging network and aim to have over 500 of our forecourts electrified by 2030, ensuring that every corner of the country has access to a rapid EV charging network."
Alongside the supply of rapid charging units, Swarco will also be supporting MFG with access to technical engineers, software development systems and operational resources.