£50m planned investment in EV hubs during 2023
New hubs, opening in 2023 will provide a further 360 ultra-rapid chargers on the MFG network
MFG has 54 hubs open throughout the UK with 271 chargers in operation
In 2022 MFG's EV Power network was voted the nation's joint favourite, based on Zap Pay's annual driver survey
Construction has begun on 12 EV hubs during January 2023, more than the entirety of Q1 2022, demonstrating the increasing velocity of MFG's investment
MFG installed 30% of all ultra-rapid EV hubs in the UK during 2022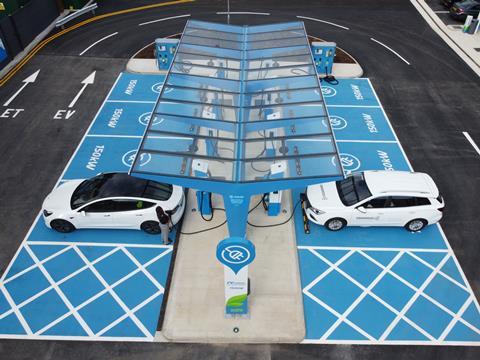 MFG has revealed plans to invest £50m in EV charging hubs this year, as part of its commitment to invest £400m in EV infrastructure by 2030.
Last year it installed 271 ultra-rapid chargers across its network, with an additional 31 hubs, plus a further 175 chargers under construction.
With 20% of the £400 million investment already deployed during 2021 and 2022, the 2023 investment plan will see MFG install over 360, Ultra-Rapid 150kW EV Chargers at hubs throughout the UK.
MFG hubs consist of between four and eight Ultra-Rapid 150kW EV Chargers per site. As vehicle battery technology evolves, these will be upgraded to 300kW+ chargers to maintain the fastest charging times across the MFG network.
Alongside its investment in EV, MFG made a £50m investment to improve its retail, food to go, and valeting offer to the consumer. MFG plans continued investment across the network in the years ahead, aimed at improving customer service across its sites. MFG forecourts aim to be a hub for local communities, offering a wide range of services and shops.
MFG says it is committed to leading the forecourt sector in transitioning to a cleaner future, providing a significant boost to the Government's decarbonisation and sustainability agenda and emissions target of being net zero by 2050. As a mark of its progress in the EV charging market, it recently came in joint first place on the ZapMap survey and scored highly for reliability and ease of use.
Over the coming decades, MFG plans to operate a dual fuel strategy, meaning it will continue to provide existing fossil fuel infrastructure while placing equal importance on rolling out ultra-rapid EV charging hubs. On-route charging will be a particularly important infrastructure for those drivers who do not have access to 'at home' charging, taking into account the fact that over 60% of dwellings in cities and urban areas do not have garages or other off-road parking provisions, and so must rely on electricity from publicly accessible networks.
William Bannister, CEO, MFG, said: "We were proud to continue our significant investment into the UK's EV infrastructure throughout 2022, opening a record number of EV hubs across our network. Our ambition was to invest ahead of the curve, and give drivers who were contemplating purchasing an electric vehicle the confidence that they could travel as easily as with a petrol or hybrid vehicle. Although we have a way to go to achieve this, our investment in 2022 has set us on a positive trajectory. We have set ourselves another ambitious target for openings in 2023, with the plan to energise 360 chargers while delivering the best experience possible for our customers."