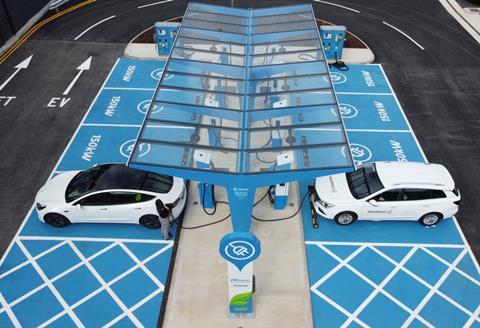 MFG has been granted planning permission to demolish its car wash at Oval Service Station on Dereham Road in New Costessey, Norfolk and replace it with an EV charging zone.
According to the Eastern Daily Press, the zone will include five points, a new canopy as well as two jet wash bays.
Officers at South Norfolk Council used delegated powers to give MFG the go-ahead to the proposals for the Oval Service Station.
Rahma Dwimunali, assistant planner for planning consultants CarneySweeney, on behalf of the MFG, said the group wanted to provide access to convenient and affordable charging.
She said: "Motor Fuel Group are looking to roll out an extensive supply of EV charging facilities at existing and new service stations across the UK to diversify their existing offer, with the aspiration to make it as easy to charge your vehicle as re-fuelling with petrol or diesel."
She said forecasts suggested at least 280,000 to 480,000 public charge points will be needed by 2030 – more than 10 times the current number of around 25,000.
Meanwhile, MFG is seeking planning permission to install EV charging points at its Dalrymple Service Station in North Berwick. The application lists installation of charging points with canopies, erection of a substation, relocation of the jet wash equipment with new bays and enclosures.