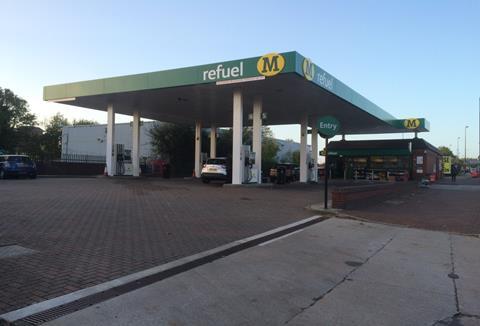 Pay-at-pump Morrisons customers have vented their frustration on social media following the supermarket's recent introduction of a £100 pre-authorisation check.
The £100 check for pay-at-pump customers has been in place for some time on other forecourts, and was rolled out on Sainsbury's and Tesco forecourts last summer.
However, the new system came as a shock to Morrison's customers who are used to the charge being £1. In response, many fuel customers are taking to Twitter to complain about the supermarket hanging on to £100 for days after paying for fuel using pay-at-pump, with one user writing: "You could go overdrawn when you fill up at Morrisons pay at the pumps system. This is ridiculous."
Others agreed with this sentiment, with another Twitter user saying: "Morrisons, will you be giving interest you've earned on the £100s that you've taken at 'pay-at-the-pump' to the customers when you finally refund the amount not used? This is a totally unethical and underhand method of taking payments from your customers!"
To use a pay-at-pump service, customers must enter their card and PIN number before being able to fill up with fuel. The station then runs a check to ensure there are enough funds, and 'ring-fences' a certain amount of cash. The card is then charged the true cost depending on how much has been spent, and the rest of the money is then released into the customer's account.
Gordon Balmer, executive director of the PRA, said the hike in the amount will affect those on low incomes badly: "I know it's the card issuers and not the supermarkets, but it assumes people on low-budgets will have over £100 in their bank which they may not, and then it will leave them short or overdrawn for a few days whilst they wait for the difference to be reimbursed. That's where the problem is occurring."
He added that for independent retailers, pay-at-pump options were not always a good thing: "A lot of independent retailers won't choose to have pay-at-pump because they want to attract people into the store and also because equipping their sites with the technology is expensive. Some have, but they'll only switch it on at night-time, and not always at every pump, and don't forget people can pay at the pump with an app so there are other ways to do it."
According to the latest data on Forecourt Trader's Fuel Market Review 2021, Morrisons has 2,260 outside payment terminals.
The company states on its website: "Prior to the 1st November 2021, all pay-at-pump transactions were authorised by requesting a £1 pre authorisation from your card issuer before taking payment for the value of the fuel one to three days later.
"Under new rules, implemented by Mastercard and Visa, we must now request authorisation from your card issuer for up to £100…We are unable to stop this pre-authorisation.
"If you do not wish to pay the pre-authorisation amount processed, please pay at the kiosk inside the petrol station where no pre-authorisation payment will be applied."
This is in contrast to Gridserve, the company behind the Electric Forecourt network, which reduced its pre-authorisation charges across the electric highway from £20 to just £1 in December, after receiving negative customer feedback.
It claims that unlike other networks that debit the pre-authorisation fees and then refund them which can sometimes take days to complete, its own system temporarily reserves the fee. This means that once the charge session is complete, the pre-authorisation fee or reserved payment will be released within seconds, and customers will only be charged for the kWh used.