Moto and Gridserve to deliver 24 new high-powered EV charging points across three Moto sites in time for Easter holidays as part of their motorway EV charging upgrade programme
A further nine Gridserve 'Electric Hub' sites are currently in construction.
A planned 'Moto super hub' at Exeter will host 12 Gridserve high-power chargers initially, with more set to follow later in the year.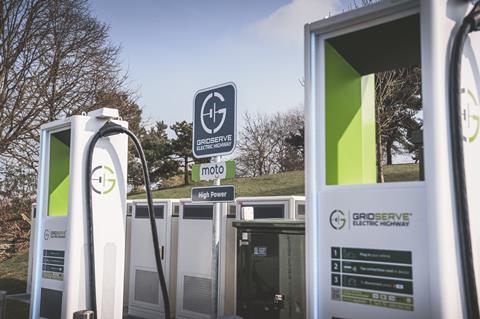 Motorway services operator Moto and sustainable energy company Gridserve plan to boost access to high-power EV charging across the Moto network by 50% in time for the Easter break.
The partnership is launching three electric vehicle (EV) charging hubs with the aim of giving people more confidence in charger availability as they journey to holiday hot spots
Across the three Moto sites, the companies are adding 24 high-power charging points, which includes a new 'Moto super hub' in Exeter. An initial 12 chargers are now live at the site with a further 12 chargers due to be installed later this year. The new site at Burton in Kendal services will add six high-powered charging points in the North.
Moto and Gridserve plan to accelerate their UK-wide investment in motorway charging to reduce charging anxiety for UK motorists and make the switch to electric fairer and easier.
Gridserve's high-power charging points – capable of delivering up to 350kW – will be supplied with 100% net zero carbon energy from the company's solar farms; accept contactless payment for maximum accessibility; and have the ability to deliver up to 100 miles of range in less than 10 minutes.
Although access to charging points has substantially increased – up by 335% since 2016 – on the UK's motorway network, where drivers are more likely to be travelling longer haul and require quicker and more convenient high-powered charging, access to charging points has been limited, stress the two companies. Previously, motorists could only reap the benefits of high-powered charging points at Moto Rugby, which hosts 12 'up to 350kW' Gridserve chargers and 12 Tesla superchargers.
Moto chief executive, Ken McMeikan believes access to fast and reliable charging points shouldn't be a barrier to anyone wanting to make the switch to an electric vehicle. McMeikan said: "At Moto, we are absolutely passionate about transforming the electric vehicle charging experience for drivers across the UK's motorways by delivering the capacity, reliability, simplicity and charging speed UK motorists need. As the biggest motorway services operator in the UK, Moto is uniquely positioned to help redress the geographic imbalances in the EV charging market and we are delivering on that potential.
"We are accelerating our ambition to open ultra rapid charging hubs at all of our motorway service areas over the coming 12 months and are delighted with the progress that our partnership with Gridserve is making towards delivering a future of more sustainable motoring."
Toddington Harper, CEO of Gridserve, said: "We are delivering the most comprehensive EV charging rollout the UK motorway network has ever seen. Gridserve is determined to make charging anxiety a thing of the past and to deliver the infrastructure that will give drivers everywhere the confidence to go electric without compromise. Moto has been instrumental in supporting us to deliver our electric hubs and we're excited to continue our work with them to continue the rollout at pace."
Ben Bradshaw, MP for Exeter, said: "Ensuring that we invest in EV infrastructure now is fundamental to ensuring a cleaner, more sustainable future. It's imperative that we make the transition to cleaner forms of transport as easy and convenient as possible for motorists. Building more charging points is a key element of this and vital to making EV ownership more accessible and attractive. Moto Exeter's superhub is a step-change for rapid charging infrastructure for the area and will support local drivers and visitors with the charging solutions they need, now and in the future."
As a business, Moto is currently on track to deliver above and beyond Government-set targets of six rapid chargers at each site by 2023. The new ultra-high power EV charging hubs will be located at the following Moto service areas:
Swansea (6 350kW chargers)
Exeter (12 350kW chargers)
Burton in Kendal (6 350kW chargers)