New car market records sixth consecutive month of growth with January registrations rising 14.7% as 131,994 new cars reach the road.
Plug-in vehicles continue growth but chargepoint rollout fails to keep pace, challenging consumer confidence, says SMMT
Latest outlook anticipates 11.1% market uplift in 2023 to reach 1.79m units despite straitened economy and strained supply chains.
Delivery of green goals in danger of delay without chargepoint mandates and action on VAT and VED.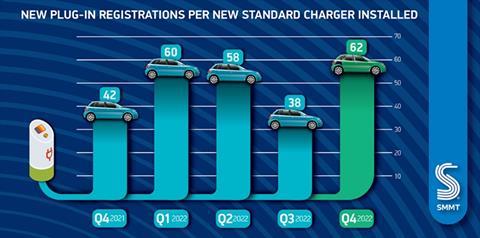 The SMMT has called for a reduction in VAT on public chargepoint use from 20% to 5% to underpin a fair net-zero transition, as it warned that chargepoint rollout is failing to keep pace and risks delaying the electric transition.
The call was made as the UK new car market recorded its best start to the year since January 2020 with sales up 14.7% to reach 131,994 units, according to the latest figures from the Society of Motor Manufacturers and Traders (SMMT), setting the tone for an anticipated countercyclical year of growth.
In pre-Covid January 2020, 149,279 new units were sold. The latest figures mark the sixth successive month of expansion.
In terms of electrified vehicles, one in five new cars registered in the month came with a plug. Hybrid electric vehicles (HEVs) comprised 14.4% of new car registrations, while battery electric vehicle (BEV) registrations rose 19.8% to reach 17,294 units, or 13.1% of new registrations – slightly below the average recorded for 2022. Plug-in hybrid vehicles (PHEVs) recorded a 0.7% rise, although their share fell to 6.9% of new cars reaching the road.
It was a strong month for large fleet registrations, which increased by 36.8% to 69,540 units, while registrations by private buyers fell by minus 4.3% to 59,639 units – reflecting some easing of supply and evidence of how shortages last year distorted market performance. Registrations by businesses, the smallest segment at 2,815 units, rose by 45.6%.
Plug-ins are expected to make up more than one in four new registrations this year, representing growth of 32.1% or approximately 487,140 units, and almost a third (31.0%) of the market in 2024 at 607,150 units.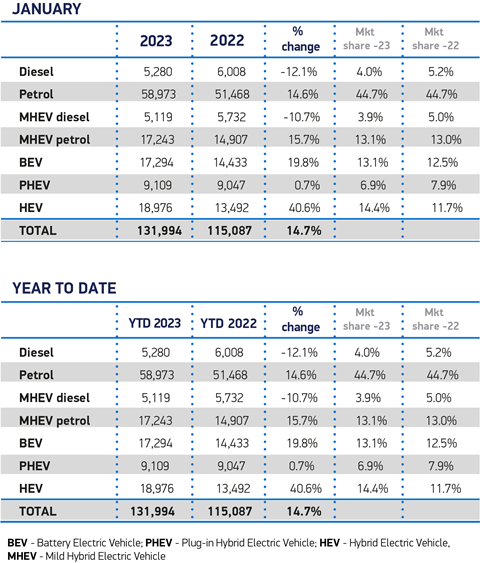 However, the SMMT believes rollout of infrastructure needed to charge them is failing to keep pace.
It stated that during Q4 2022, the ratio of new chargepoint installations to new plug-in car registrations dropped to one for every 62 – a significant fall compared with the same quarter last year, when the ratio was 1:42. As a result, in 2022, one standard public charger was installed for every 53 new plug-in cars registered, the weakest ratio since 2020. Mandating rollout targets for infrastructure and regulating service standards would give drivers certainty they can always find a working, available charger. Infrastructure must be built ahead of demand else poor provision risks delaying the electric transition.
More immediately, the upcoming Budget is an opportunity to implement measures that support the transition. Reducing VAT on public chargepoint use from 20% to 5% in line with home charging would ensure more affordable access for all and underpin a fair net zero transition. Government should also review proposals to graft a Vehicle Excise Duty regime designed for fossil fuel cars onto zero emission vehicles (ZEVs). The higher production costs associated with electric vehicles means that currently more than half of all available BEVs would be subject to the expensive car supplement due to apply to ZEVs from 2025. While it is right that all drivers pay their fair share, existing plans would unfairly penalise those making the switch, and risk disincentivising the market at the time when EV uptake should be encouraged. Government should also tackle other fiscal blocks to uptake by raising recommended business mileage rates.
Mike Hawes, SMMT chief executive, said: The automotive industry is already delivering growth that bucks the national trend and is poised, with the right framework, to accelerate the decarbonisation of the UK economy. The industry and market are in transition, but fragile due to a challenging economic outlook, rising living costs and consumer anxiety over new technology. We look to a Budget that will reaffirm the commitment to net zero and provide measures that drive green growth for the sector and the nation.
The strong start to the year is mirrored in the latest market outlook, which anticipates 1.79 million new car registrations in 2023, an 11.1% increase on the past year but still well below 2019 levels. This also represents a -0.8% reduction on October's outlook, against a weak economic backdrop. However, a further 9.3% increase is expected next year, with 1.96 million new cars expected to join the road in 2024.