First-of-a-kind Connected Kerb project to deliver EV charging revolution to out-of-town communities and tackle EV inequality
Project to increase the accessibility of EV charging across Kent Parish sites provides blueprint for UK's local authorities to bring the EV revolution to hard-to-reach areas
40 EV chargers to be installed in poorly served areas across Kent
Connected Kerb's innovative technology and business model dramatically reduces the cost for local authorities and landlords, making EV charging realistic for hard-to-reach communities.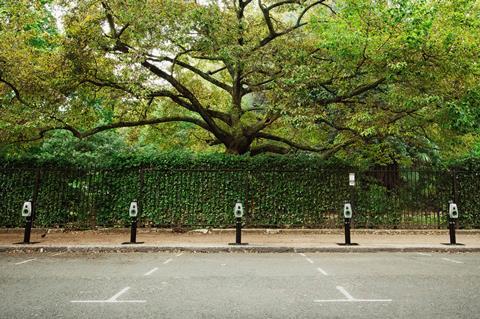 Electric vehicle (EV) charging specialist, Connected Kerb, is working with Kent County Council in a first-of-a-kind project that will provide a blueprint for local authorities across the UK to deliver sustainable, affordable and accessible EV infrastructure to hard-to-reach UK communities.
In the project's first phase, Connected Kerb is installing 40 charging units across 20 Kent Parish sites to improve accessibility for EV motorists and encourage a wider shift to EVs. All income from the chargers goes to the local community or is used to support the roll out and maintenance of more chargers, creating a long-term revenue stream for those involved.
Chris Pateman-Jones, CEO of Connected Kerb, said: "Access to charging infrastructure is one of the biggest barriers to the uptake of EVs. Although demand for chargers is higher in dense urban areas, the lack of infrastructure in out-of-town communities leaves people concerned about switching to EVs. It is vital that access to public charging is equitable across the entire country and we bring an end to the EV charging postcode lottery.
"Nobody should be left behind by the EV revolution because of where they live. Our partnership with Kent County Council shows that the economics of installing EV charging in non-urban areas is much more favourable than many believe. This is a recipe for success for local authorities across the UK."
He said installing public charging infrastructure outside of busy urban areas has typically been a challenge for the industry. Lower grid capacity and fewer connections increase upfront cost, with lower footfall compounding the challenge by extending the return-on-investment period. With some rapid chargers costing upwards of £100,000 to install, and with lifespans of between 5-10 years, the economics rarely add up.
As part of the company's mission to make EV charging accessible for everyone, wherever they live, Connected Kerb's technology and business model is designed to enable local authorities to provide all communities with accessible, low-cost and reliable public EV charging. Its infrastructure is designed to last more than 20 years.
The charging infrastructure is located below ground and installed once, with passive chargers that can be 'switched on' by adding the above-ground charge point to match consumer demand.
The company says the chargers also feature additional smart capabilities that can facilitate air-quality monitoring, parking management, CCTV, road sensors, 5G connection, autonomous vehicles, route planning and power demand forecasting. It believes these features, plus the long lifespan, make EV charging infrastructure much more cost-effective and create a business case for installing it in hard-to-reach areas.
Tim Middleton, Transport Innovations Programme manager, Highways, Transportation & Waste from Kent County Council, said: "Providing adequate electric vehicle chargepoints across the county is a key part of our strategic plan to achieve carbon neutrality by 2050. This partnership offers a fantastic opportunity for Kent businesses, residents and visitors to have equal access to electric vehicle charging infrastructure – not only is this crucial as we move closer to the 2030 ban on the sale of petrol and diesel cars, but it means that Kent can play its part in the transition to decarbonisation."
The EV charging units are being installed at all sites, including village halls, pavilions and car parks, from this month, giving local residents, businesses and visitors the chance to charge in small towns and villages across Kent. Every charger will provide a 7kW – 22KW fast charge, targeting habitual charging where residents, shoppers, and company vehicles are parked for a predictable amount of time each day. Every chargepoint will feature contactless payment via the Connected Kerb app with a consistent network and tariff across the sites.
The project is financed from a range of sources, including funding from the Kent Lane Rental Scheme; and the DFT to support sustainable travel. Parishes themselves have contributed and for some locations 75% of the costs were financed through the UK Government's On Street Residential Charge Point Scheme, available to all local authorities in the UK. The charger revenue will be returned to the local community and used to maintain and expand the charger network Connected Kerb will play an ongoing maintenance and customer support role. The company also offers a fully funded model, involving no upfront cost to local authorities, with all charger revenue shared.
There will be 20 locations across Kent in the first phase of installations with the first chargers coming online in May 2021. The second phase of installations are already being planned, with an additional 12 locations being surveyed. Further applications are welcomed at any stage and will be considered on a case-by-case basis.
The first few installations, carried out by Volker, will be in:
Chartham
Ditton
Swanley Town Council (Civic Centre)
Swanscombe & Greenhithe Town Council (Grove car park, Swanscombe Leisure Centre & Ingress Park)
Turner Gallery, Margate
Walmer
Connected Kerb describe themselves as one of the UK's leading charging point providers, delivering future-proof, cost-effective and sustainable EV charging solutions for the public sector, developers, fleets, workplaces, car parks and other organisations to help accelerate the transition to EVs for all. It says its solution combines power and data at the kerb to deliver user-friendly and reliable charging and provide the foundation for connected cities and communities.