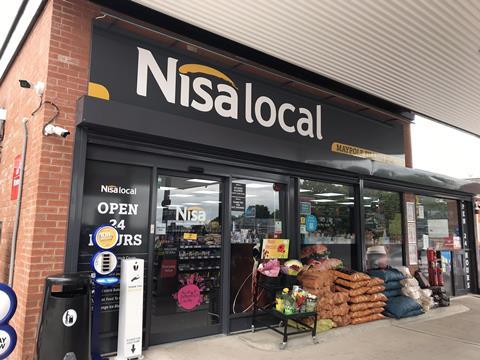 A West Midlands forecourt has been totally transformed by replacing a traditional kiosk with a new a Nisa Local-branded convenience store.
Maypole Service Station, located in Maypole Lane, Birmingham, was an established forecourt previously focusing on the fuel side of the business, owned by independent fuel retailer Keith Mowbray for many years. The site had been mothballed for five years when it was leased to Top 50 Indie Krisco Seyon in 2013 and was later purchased for development.
The kiosk that previously stood on the site at circa 400 sq ft has now been demolished and in its place is a 1,300 sq ft store, fitted out to the latest Nisa Local Evolution specification.
Store development manager, Dave Needham, said: "The new store has almost tripled the selling space for the retailer and so that has allowed for a much improved offer, moving away from the snacking to a comprehensive grocery offering."
Launched in April and offering a full convenience range including a strong Co-op own-brand presence coupled with Co-op branding both in and outside the store, the store sales have increased dramatically in line with the broader range available to shoppers.
The beers, wines, and spirits category sells well and while the fresh offer is still being refined as shopper awareness grows, the store has started off well and has a promising future.
Store manager, Yogi Moorthy, said: "Sales are growing week on week which is very good. We have worked on our range and made some changes to the original offer that works better for the store, and it is going in the right direction."
Open 24 hours a day, serving through a hatch from 10pm, the early signs are good for the business with the word starting to spread locally about the vastly improved offer.
Stuart Hawkes, Nisa Induction Manager who is supporting the retailer, said: "The transformation is truly incredible from what it was before to what it is now. When the customers get in and walk the store, they can see for themselves what is now on offer to them."