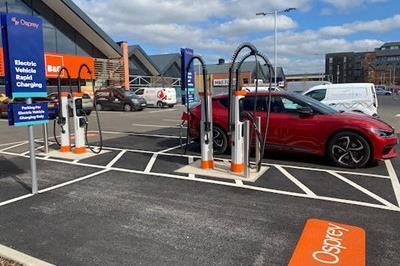 Osprey Charging has revealed a rapid acceleration in the development of its network of rapid EV charging points, after it installed as many chargers in the first quarter of this year as it did during the whole of 2022.
From January to March this year, 142 new rapid Osprey EV charging stations went live in 10 weeks, equalling the number of charge points installed throughout 2022. The new figures refer to live charge points that are open for public use. Another 50 chargers will be installed and made live in April.
Ian Johnston, CEO of Osprey Charging Network, said: "I'm delighted that the deployment of Osprey's national infrastructure of EV charging stations is at full speed, with the whole team working tirelessly to bring new chargers live at this unprecedented rate.
"Looking ahead, we are set to continue this pace of roll-out and deliver on our business plan of achieving four times as many chargers in 2023 than we did in 2022."
Osprey claims to be the fourth largest public rapid charging network in the UK, and has a focus on developing hubs of four chargers.
It uses load-balancing hubs, first introduced to the UK in 2021, which distribute available power to cars as they need it, and says this means more charge points can be installed on a smaller grid connection than a traditional set up and no power is wasted.