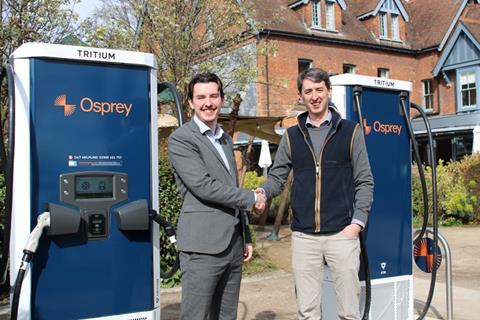 Family brewer and pub company Wells & Co has announced the installation of its first 23 rapid electric vehicle (EV) charging points at seven of its sites in the UK.
The 170-strong pub estate has teamed up with Osprey Charging Network to build and run the installations. The partnership will see an initial 12 rapid charging locations created (totalling almost 50 rapid charge points) across the Wells & Co estate, including three high-power charging hubs.
The first seven sites comprise three 75kW rapid chargers apiece, and an ultra-rapid six-charger hub is scheduled to go live at The Eaton Oak, St Neot's, very soon.
Nick Wells, head of estates and fifth-generation family member, said: "We are thrilled to announce our partnership with Osprey. We will be working with both our managed houses and our pub partners to help support a widespread network across the country for electric vehicle drivers. Wells is committed to its Triple Bottom Line Philosophy that balances people, planet and profit, and this is just one of many initiatives under way in our business."
Sustainability manager Ed Robinson added: "The thought of our customers enjoying a great meal in a great pub while reducing their impact on the environment has us all excited."
Ian Johnston, CEO at Osprey Charging Network, said: "We know from experience that electric vehicle drivers choose to stop at locations where they can enjoy their re-charge time in a safe and comfortable environment with food and amenities. Wells & Co's pubs provide this warm welcome and high-quality experience, while retaining the individuality of each pub. We're delighted that our rapid charge points can add a valuable service to these unique locations."