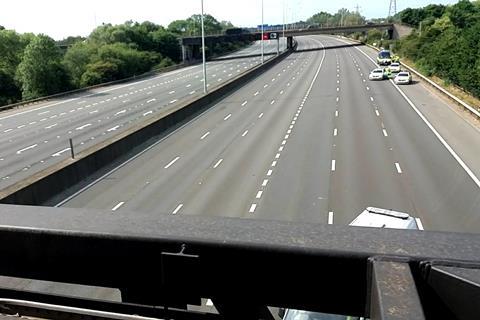 Police have been forced to close parts of the M25 after climate protesters climbed on the gantries that support overhead signs above the motorway.
The move came after the protest group Just Stop Oil responded to yesterday's record-breaking temperatures by declaring the M25 a site of civil resistance.
The group urged drivers to avoid the M25 between Wednesday and Friday this week because they would be blocking the highway.
The group released a statement saying: "We have a clear demand: that the UK government makes a statement that it will immediately halt all future licensing and consents for the exploration, development and production of fossil fuels in the UK. This is the necessary first step to ensuring a liveable future. The UK government's failure to take that step is a criminal dereliction of its fundamental duty: to protect and safeguard the lives of its citizens."
Five Just Stop Oil campaigners climbed gantries around the motorway, including at the anti-clockwise carriageway of junction 10 near Cobham, Surrey, where three lanes were closed, and the motorway was closed clockwise between junction 14 for Heathrow Airport and junction 15 for the M4.
In April hundreds of supporters of Just Stop Oil were arrested after blockading oil terminals.