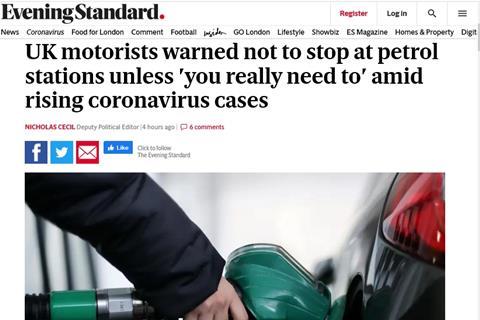 The PRA is demanding corrections from two major regional newspapers after they wrongly claimed the government was advising motorists not to stop at Petrol stations "unless you really need to".
The Evening Standard in London and the Liverpool Echo both carried stories about the tightening of restrictions and new advice from the Government aimed at clamping down on the spread of Covid-19.
Both used wording claiming that motorists were being advised only to visit petrol stations if they "really need to" and the Liverpool Echo headline was "Drivers now urged to avoid petrol stations and services if they can".
In reality, the latest guidance for travellers reads: "Limit the time you spend at garages, petrol stations and motorway services. Try to keep your distance from other people and if possible pay by contactless."
PRA chairman Brian Madderson said: "We are formally complaining to the Evening Standard about inaccurate reporting and asking for a correction to be issued. We will do likewise to the Liverpool Echo.
"It is deeply anti-competitive as so many petrol filling stations now have a thriving trade in groceries, convenience items and food to go. These papers are encouraging consumers to bypass petrol filling stations, except to fill up with fuel, and sending them to shop at our competitors."
He pointed out that many petrol station shops played a vital role during the full lockdown earlier this year, supplying groceries and fresh products to the most vulnerable people in their communities, with some even providing home delivery services.