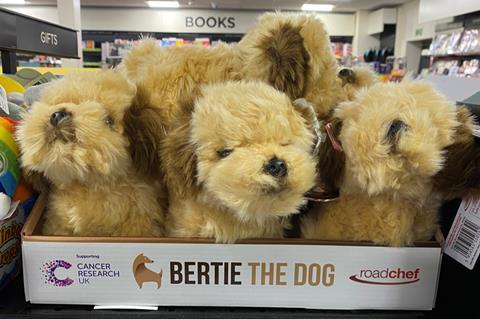 Motorway service area operator Roadchef has launched an initiative to raise funds for Cancer Research UK.
It has introduced a cuddly toy dog named Bertie that will be sold at its sites across the country.
Named after the dog of one of Roadchef's team members, Bertie will be sold for £8 in all WHSmith stores at the company's 30 service areas, with 25% of every sale donated to Cancer Research UK.
The original Bertie is a one-year-old Shih-Poo who was born during the first lockdown and has been a regular presence at Roadchef's sites across the UK ever since.
His owner, Mike Jackson, Roadchef's director of supply chain management and head of charity, explained: "I suppose you could say Bertie was a bit of a lockdown cliché, but he has been the best decision we ever made.
"He has brought a huge amount of joy to our family, and to everyone who meets him. It can be tricky travelling with a dog in tow but Roadchef has made every effort to ensure pets and their owners feel safe and welcome.
"When we were brainstorming ideas to raise money for Cancer Research UK we thought a cuddly version of Bertie would be perfect for our younger visitors. We are always looking at ways to make our service areas more appealing to families and our Bertie mascots will help keep children entertained on long journeys whilst also raising money for Cancer Research UK's vital work so it's a win-win all round."
Stephanie Parsons, account manager at Cancer Research UK, added: "We were delighted when Roadchef approached us with the idea of creating a mascot as part of our partnership. Roadchef has shown absolute dedication to Cancer Research UK over the past three years, and we want to say a huge thank you to everyone who has supported the partnership through fundraising and raising awareness of cancer."
Roadchef has been working with Cancer Research UK since 2018 and during this time has raised more than £2.75m for the charity.
This year, every employee has been tasked with raising £100 each, with the aim of reaching £6m by 2023.