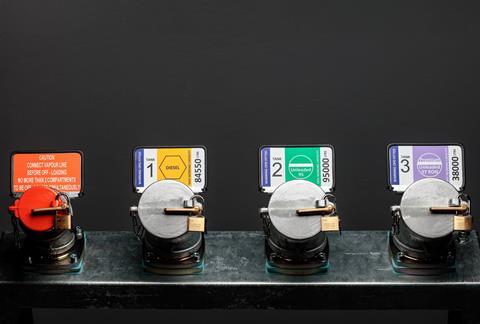 STA Technical has developed new offset fuel labels for forecourts after a child was injured on a forecourt in an incident involving older versions of the labels.
STA Technical client, Tom Bindley of CP Installations, explained the circumstances of the accident: "Having filled up, a mum went to pay for her fuel, but unbeknown to her while in the shop her child got out of the car. On this forecourt the offset fill points were sited on a pump island, protected either end by bollards. Unfortunately the child slipped and fell on the corner of the label, resulting in a nasty gash to the leg and stitches."
STA Technical director Warren Peters added: "When Tom relayed this story, I knew we could improve on the existing holder design and develop a system that was not only safe, but also deliver improvements on the label design.
"We have engineered out all sharp corners on our label holders and they are fitted with a rubber safety edging as standard. We've also changed the clamping system to make it quicker and easier to mount the label."
A new grade label system has also been developed to meet the needs of today's busy forecourts.
Peters explained: "Using aviation technology for our new laminated labels, we're able to provide labels that are not only weatherproof, but are UV resistant, offer temperature stability and are easy to wipe down. And if the labelling needs to be changed due to a site refresh or grade change, it's a case of following a few simple steps to remove the old and affix the new."