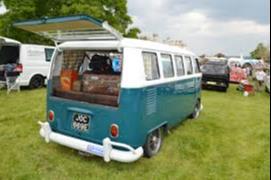 Fuel retailers should expect to see more camper vans and caravans on their forecourts this winter as Brits look for inventive ways to 'staycation' with loved ones during the colder months of COVID-19, leading to a rise in 'glampervanning'.
A survey of 2,000 UK adults, commissioned by digital automotive marketplace Auto Trader, has revealed that 71% of Brits who are thinking about taking a holiday this winter would consider staying in a luxury caravan or motorhome.
The data also reveals a 156% year-on-year rise in advert views for top-end models – motorhomes and caravans costing between £50,001-£100,000 – that have more advanced technology and features.
Caravan and motorhome holidays are proving to be good options for holidaymakers amidst the ongoing pandemic as people are attracted by the option of being able to social distance from loved ones from different households in separate caravans parked next to each other, while still being able to enjoy time together outdoors.
Of those who are considering a holiday this winter, it is the younger generations – adults aged 18-44 – who are most likely to consider a caravan or motorhome holiday (95%) with almost one in three of these (32%) saying they would be willing to spend more than £1,000 to rent a luxury caravan or motorhome for a holiday this winter.
Nearly one in five of this group (18%) agree that taking a trip in a caravan or motorhome would be a great way to have a holiday while adhering to lockdown restrictions and more than one in 10 (13%) say it would be safer than a hotel or Airbnb this year.
However, gone are the days of trying to keep warm in a beat up, poorly-insulated old caravan or motorhome, the younger generation is all about 'glampervanning' this winter and has a list of requirements - such as Smart TV with integrated Netflix, followed by a full cooking suite and a spacious sofa for relaxing - that need to be met before they will consider this kind of trip.
The survey was commissioned following reports from Auto Trader which reveal a staggering 94% increase in advert views for caravans and motorhomes in September 2020, compared to the previous year.
Auto Trader's editorial director, Erin Baker said: "Staycations are set to remain popular for some time as coronavirus shows little sign of slowing in the UK. Christmas in particular is likely to see a surge in the popularity of caravan and motorhome holidays as people look for inventive ways to spend time with loved ones, while still adhering to COVID-19 restrictions."