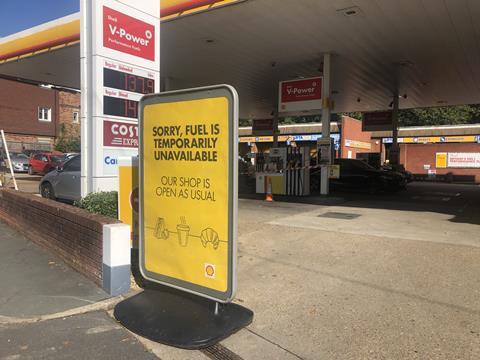 Average stock levels at petrol filling stations across Great Britain have fully recovered after the disruption at the end of September, when many sites ran dry due to panic buying, and are maintaining a slightly higher level than before.
According to the latest statistics from the Department for Business, Energy & Industrial Strategy (BEIS) average stock levels prior to the disruption had been averaging about 43%, and during period from September 23 to October 3 average levels dropped to 20%.
However, for the four-week period from October 18 to November 14 stock levels averaged 47% and had declined marginally to 46% in the most recent week (November 8-14).
Average daily fuel sales in the most recent week were at 90% of pre-pandemic levels, at 15,900 litres versus 17,740 litres, and this was a 1.6% decrease on the previous week.
Average deliveries during the week were 16,200 litres and this was 0.2% down on the previous week.
The figures from BEIS are based on end-of-the-day snapshots of petrol and diesel sales and stock levels from a sample of around 4,500 filling stations across Great Britain.
However, the fuel volumes are collected primarily from oil companies, supermarkets and large independent filling stations, and this results in higher daily average figures than if all independent volumes were included.