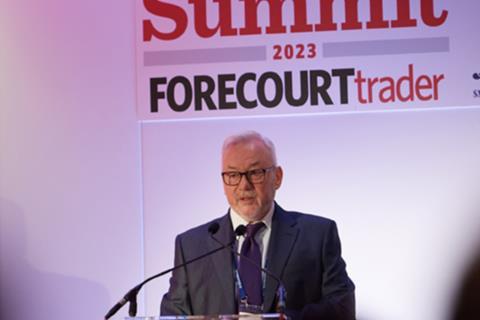 PRA executive director Gordon Balmer gave an insight into his organisation's work on behalf of its members in his presentation to the Forecourt Trader Summit 2023.
Balmer said the PRA represents the interests of its members in engagement with the government on a wide range of issues.
He revealed the PRA had to refute inaccuracies in proposals for a fuel price watchdog called PumpWatch, which had been circulated to the Treasury and Department for Business, Energy and Industrial Strategy (BEIS) by FairFuelUK.
Balmer said: "They have written to the Chancellor and Grant Shapps looking at some form of price regulation and we have had an opportunity to look at the document. Some of it contains factual inaccuracies such as the price calculation of the wholesale price of fuel is only known to a certain number of people in the fuel industry and it's a secret formula. There's also some questions around a PumpWatch commissioner who would meet representatives of the fuel industry and decide what a fair margin is, so taking out fair competition. We have written to the chancellor with some of our reservations about this because it does have the support of around 40 MPs. We await to see what is going to happen and we have the Budget on March 15.
One of the most critical concerns for many members is the high cost of energy and the end of the government's relief scheme later this month. He said companies who fixed their energy costs last autumn faced a cliff edge when they reverted to the full price in April.
He gave an example of a company which had fixed its price at 75p per kilowatt last autumn faced an increase from 21p to 75p in April.
He said: "We have written to the Chancellor pointing this out recommending to him that businesses who are in this position be allowed to renegotiate their deals without any penalties. We know we are not alone in this, other trade associations representing the hospitality industry, the Federation of Small Businesses the ACS are all lobbying for this because this is a critical issue businesses now face."
Another pressing issue for the sector is the inquiry by the Competition and Markets Authority (CMA) into the road fuels markets. Balmer said the PRA had met with officials and helped them understand a range of issues such as the difference in supply costs for urban and rural sites and the effect this has on pump prices, forecourt operating costs which he described as a gap in their knowledge, the pricing methodologies to calculate wholesale prices, motorway fuel pricing and the issues with the Highways Agency over electronic motorway signage and fuel cards.
He continued: "That is uppermost in many of our members' minds in terms of the margins on fuel cards and I was able to give them details of the financial model and how that all works."
Another related issue where PRA has been engaged is work by the BEIS looking at the possibility of open data on petrol prices. BEIS has just been split in two with the Department for Energy Security and Net Zero, headed by Grant Shapps, taking on this work.
Balmer said: "This is not a public consultation, it is an investigation to see whether the UK consumer would benefit from an open data scheme – real-time pump prices on a website – and whether that will make the market more open and transparent."
He continued: "They do not have much experience in this sector so they were very impressed by the level of data we were able to give them. This would be modelled on schemes in Northern Ireland operated by the Consumer Council and in Germany by the Fuel Price Transparency Unit."
However, there are other schemes such as petrolprices.com and confused.com, which rely on fuel card transactions, these may be out of date, and the work is still in progress.