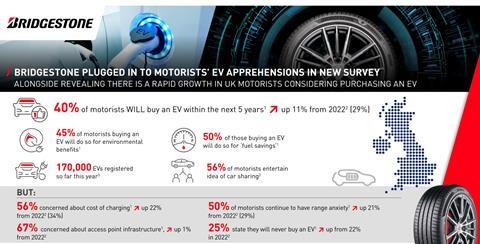 Nearly half of UK motorists will be making the switch to an EV in the next five years, despite heightened concerns about charging point infrastructure and range anxiety.
A survey of 2,000 drivers, commissioned by Bridgestone, found that 40% will buy an EV by 2028, up 11% from when asked in 2022. However, 67% raised fears about the availability of charging stations, (up 1% on 20222) with half of all respondents continuing to have range anxiety, which represents an increase of 21% from last year.
The Bridgestone research reinforces the fact that motorists appreciate the benefits of making the switch, with 50% intending to do so for the potential savings and 45% preparing to do so for environmental benefits.
But there is still some way to go to convince all motorists that EVs are the future, with 25% of people surveyed declaring that they never intend to buy one. The results come on the back of The AA's research, which suggests that motorists need not be as concerned about range anxiety as they are, with just 2.1% of EV breakdowns being the result of cars running out of battery, in 2022.
The rising cost of living has also been reflected in Bridgestone's latest research, which also revealed that 56% of motorists would entertain the idea of car sharing in the future to reduce outgoings and save money.
Meanwhile, Bridgestone said it is already tackling some of the issues raised by developing its tyre technology to ensure that EVs can travel further between charges, while prolonging battery life.
Its new Turanza 6 tyre is the company's first-ever 'EV Ready' tyre, making it suited to hybrid and EVs, helping to optimise their performance. This includes low rolling resistance to save battery life and address range anxiety concerns, excellent control to address EV-specific driving-related issues, higher wear tolerance to combat tyre wear due to the increased weight and higher torque, and decreased noise for driver comfort owing to the near non-existent engine noise of EVs.
Bridgestone North Region vice president Andrea Manenti said: "It's clear that we are undergoing huge change in the automotive industry and our latest results suggest that EV sales are only going to grow, year-on-year.
"These concerns were insightful and we are addressing many of them with premium tyres that meet specific EV requirements and help deliver optimal performance, as seen in our new Bridgestone Turanza 6 tyre."