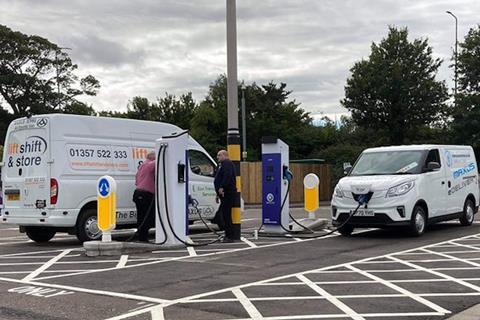 Electric vehicle charging infrastructure specialist Swarco eVolt, has installed 18 charging stations at a new charging hub at Wallyford, Park & Choose (bus/rail), for East Lothian Council.
Wallyford, Park & Choose, which is managed by the council, provides a hassle-free alternative for drivers looking to visit Edinburgh city centre and other destinations with over 300 free parking spaces, and frequent bus and rail connections. It is also conveniently located just off the A1 trunk road for drivers topping up on longer journeys north and south.
In total, the new hub features 18 charging stations, including two of Swarco eVolt's 150kW high-power chargers to cater for both destination and journey charging, and will provide essential charging infrastructure for electric vehicle (EV) drivers.
East Lothian Council has invested heavily in EV infrastructure over the past 18 months, with 83 publicly accessible charging points now installed across the region, which will reach 100 by the end of 2020. Last year, Swarco eVolt installed 45 charging units across 28 sites in the county including central hubs in each of East Lothian's largest towns, as well as rural towns and villages.
Ryan Robertson, EV Infrastructure Officer at East Lothian Council, says: "We are fully committed to providing the residents and businesses of East Lothian with more access to essential and reliable charging infrastructure. This is something we want to continue to invest in.
"As a hugely popular and vital transport service for the local communities, with both bus and rail links into Edinburgh city centre and further afield, Wallyford, Park & Choose is the ideal location for this strategic charging hub."
Justin Meyer, general manager at Swarco eVolt, says the business is proud to support East Lothian Council in further promoting EV uptake: "East Lothian Council continue to demonstrate their commitment to providing their residents and local businesses with essential charging infrastructure across the county. We have developed a really strong working relationship with the Council and we are pleased to continue to support them with our proven and reliable charging solutions."