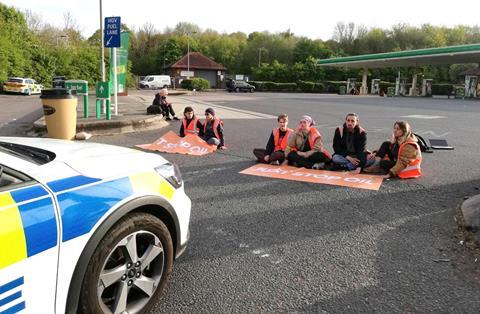 Two motorway service areas on the M25 were under siege on Thursday by around 35 supporters of Just Stop Oil who blocked access to the sites in support of their demand that the UK government end new oil and gas projects in the UK.
Starting from 7am, actions took place at the Extra Cobham Services in Surrey and the Roadchef Clacket Lane Services in Kent. At both locations, JustStop Oil supporters blocked the entrances to the petrol pump area by sitting in the road with banners. Some supporters also sabotaged the petrol pump by breaking the display glass and covering it with spray paint.
The action is described as a 'significant escalation' after 10 Just Stop Oil supporters were arrested yesterday outside Kingsbury oil terminal. They are due to appear at the Victoria Law Courts in Birmingham today charged with contempt of court in respect of an injunction granted to North Warwickshire Borough Council on April 14.
Two young supporters of Just Stop Oil are also due to appear in court in Manchester today for breaking the Warwickshire injunction.
There have been over 1000 arrests since April 1 when supporters of Just Stop Oil first began blocking oil terminals. The supporters of Just Stop Oil say they will continue the disruption until the government makes a statement that it will end new oil and gas projects in the UK.
Fuel retailers had already been urged to review their security after government agencies warned of a strong likelihood that protesters may target forecourts.
The PRA sent out a warning to members following a meeting with BEIS Downstream Oil Resilience team, trade bodies and the police this week to review the situation regarding protests by Just Stop Oil.
With the notice it sent Site Security Guidance prepared by Business, Energy and Industrial Strategy, Centre for the Protection of National Infrastructure and National Counter Terrorism Security Office.
It said the document would act as a guide to a robust security culture and provide the principles for effective security practice, adding: "It is a valuable tool that will enable private sector operators to access best practice guidance and advice to improve their security arrangements."
PRA executive director Gordon Balmer said: "What is paramount in all this is to keep customers and our teams safe. If members have any concerns about this they should contact the PRA."
Stephanie Golder, 34, a charity project coordinator from Essex taking action today said: "I'm sick and tired of being treated like a criminal for standing up for what is right. The real criminals are those refusing to act on the climate emergency, it's truly genocidal for our government to give new licences for oil exploration.
"The poorest in this country need help with their energy bills now. But instead the government's energy strategy fails to mention energy saving measures such as insulation and instead prioritises a 'plan' which puts us on a fast-track for climate chaos."