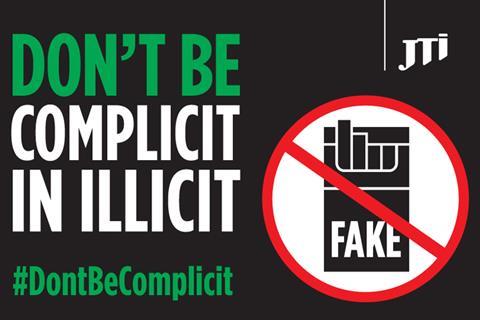 Two fraudsters who sold counterfeit Amber Leaf tobacco through Facebook have been prosecuted in a campaign to tackle the illicit tobacco trade, funded by Japan Tobacco International (JTI).
At Southend Magistrates' Court, Michael Light pleaded guilty to four counts of selling and possessing counterfeit tobacco. Light was fined £800 and required to pay a £34 victim surcharge. The court also imposed a requirement on him to pay £500 towards the investigation costs and an order was made for forfeiture and destruction of all the fake tobacco.
Lauren Marie Squelch also pleaded guilty to selling counterfeit tobacco products that broke The Trademarks Act 1994 at Southend Magistrates' Court. Squelch was fined £120 and ordered to pay costs of £200 and a £34 victim surcharge.
Following online contact, evidence of the offences for both cases was obtained as a result of face‑to-face test purchases, conducted in June and July 2020. In both instances, five illegal products (50g packs of roll your own tobacco) were purchased. Both cases were brought by TM Eye as a private criminal prosecution on behalf of JTI.
Charlie Cunningham-Reid, UK head of corporate affairs, JTI, commented: "We welcome the decision made by the Court for both offences. JTI is committed to helping tackle the problem of illegal tobacco and we will not hesitate to take similar action in future. Selling illegal tobacco damages legitimate business and makes it easier for young people to get hold of tobacco products."
JTI has supported 13 successful prosecution cases for infringements on one or more of its brands since the start of 2018, and hosts the Don't be Complicit in Illicit website.
If retailers know, or suspect, illegal tobacco is being sold in their area, they should call HMRC's Fraud Hotline on 0800 788887, Trading Standards via the Citizens Advice consumer helpline on 0808 223 1133 or the independent charity Crimestoppers, anonymously, on 0800 555111.