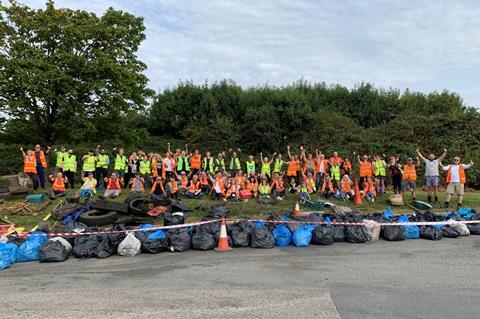 Staff from Welcome Break have teamed up with local residents to clear rubbish from its Leicester Forest East Services and its surroundings.
They worked with South Leicestershire Litter Wombles, a group of volunteers who remove rubbish dumped in the countryside and towns, to complete a litter pick around the local area.
At 8am on a Sunday morning, 56 Wombles volunteers and 17 Welcome Break team members, started their efforts clearing away litter from around Welcome Break's HGV parking area and the rear slip roads to carry out a mass clean-up of the local area.
The group of volunteers collected 237 bags of rubbish.
Commenting, Andy Jagger, regional operations director at Welcome Break said: "At Welcome Break, we place great importance on supporting our local communities and the environment. The group removed a remarkable amount of waste and I would like to thank everybody who took part over the weekend. We look forward to continuing our work with the South Leicestershire Litter Wombles in the future."
Bob Lee of South Leicestershire Wombles said: "The Leicestershire Wombles started in February 2019 with one citizen feeling that something had to be done to clean up our countryside. Thirty months later, we now have around 4,000 social media members across Leicestershire.
Welcome Break management and team members were fantastic, getting fully involved, and pulling off one of the biggest litter picks in the county.
"Our combined team achieved a fantastic clean-up and a special thank you goes to Leicester Forest East Services for putting on food and refreshments for the volunteers. We are excited for Welcome Break's continued involvement in litter clearance, and we hope to work together again at some point in the near future."