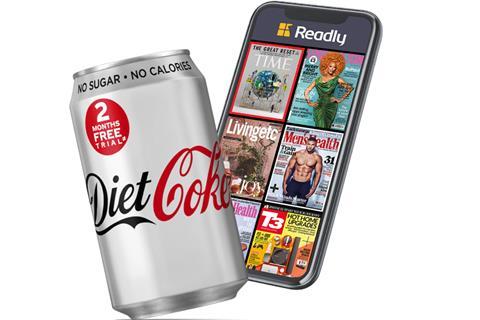 Coca-Cola European Partners (CCEP) has unveiled a new on-pack promotion for Diet Coke, offering consumers a free trial to the digital subscription service, Readly.
The promotion builds on Diet Coke's 'Give Yourself a Diet Coke Break' marketing campaign, which encourages people to take a moment to refresh and be kind to themselves.
Diet Coke has partnered with Readly to offer consumers a free trial to the all-you-can-read subscription with over 5,000 digital magazines and newspapers.
From now until the 18 April, unique codes under the ring pulls or bottle caps of promotional packs of Diet Coke can be redeemed online against a free two-month Readly membership.
Each unique code entered will also go into an hourly prize draw, for the chance to win an annual subscription worth £95. Promotional packs include 300ml can and 500ml bottles (plain and price-marked packs), as well as 10-packs of cans and 2l bottles.
The on-pack promotion is being supported by a marketing campaign spanning digital, OOH and social media, while the 'Give Yourself a Diet Coke Break' creative will be on national TV and radio.
Simon Harrison, vice president of commercial development at Coca-Cola European Partners GB, said: "Taking a break is one of the most frequent consumption occasions for Cola brands, and it's been aligned to the Diet Coke brand for nearly three decades.
"This combined with the fact that magazine purchasing and online subscriptions over-index among ­­the core Diet Coke consumers, and with two thirds of adults in GB saying they read online and print magazines, means that this on-pack promotion is sure to boost purchases among new and existing Diet Coke shoppers.
"Diet Coke is the original no calorie cola, consumed by more than 10m households across GB and continues to drive growth within the Cola segment. Its iconic lighter taste profile is the perfect refreshment when consumers are stepping back and enjoying some much-needed 'me time'. And now with access to Readly, brand fans can really make the most of this time."
Rob Hanlon, global partnerships director at Readly, said: "Digital reading is the perfect go-to for a relaxing break and a great source of entertainment and inspiration during a busy day. We are delighted to be partnering with such an innovative, vibrant brand as Diet Coke to offer consumers the opportunity to read our broad portfolio of titles and enjoy a Diet Coke. It's a great fit for us."