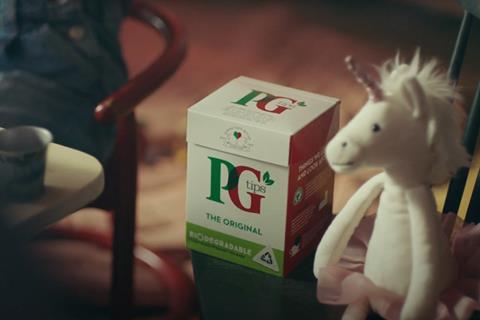 PG tips is investing in a £3.8m ATL campaign to support the range and increase awareness around its introduction of biodegradable tea bags.
The 30-second TV ad follows a young girl hosting a tea party where she tells her toy companions how each small sustainable choice can make a big difference. Not only does it highlight the confidence and ease younger generations feel about accepting change and the positive effects that come with it, it also touches on the benefits of 'sharing a cuppa' together.
Fiachra Moloney, tea director, Unilever UK&I, said: "As the nation's largest producer of tea bags it is our responsibility to lead the mainstream black tea industry on this important change. Earlier this year, we completed the transition to biodegradable tea bags and now have the opportunity to shout about it in the hope that it will encourage other brands to do the same.
"With its warm and heart felt message we want this TV campaign to encourage tea lovers to question what their tea bags are made of and if they can make the switch to a more sustainable cuppa. In the meantime, we are continuing to work hard to remove our plastic wraps and make our packs fully plant-based."