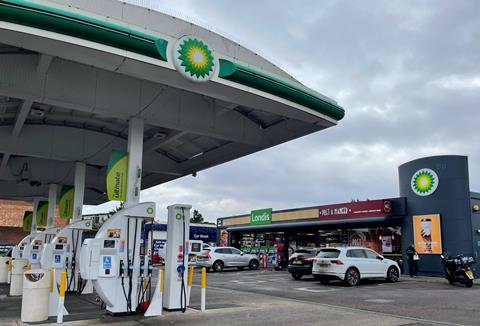 Once was the time when a forecourt's pole sign simply showed the fuel brand and the price – today it communicates much more than that. There's the symbol group under which the store trades, the food to go that customers can expect to find inside (think Greggs or Subway) and then, of course, the coffee brand.
While many people will choose a forecourt simply for its location, sometimes it's for the fuel brand or what's inside the store. After all, we all know what it's like to be on a motorway and see a services sign and think 'I don't fancy KFC so I'll wait for McDonald's'. So in a similar vein, some people might choose your site because it has a Greggs while others might prefer to go with a site with a Subway.
There's no doubting the growth of food-to-go concessions on forecourts but branding typically starts with what's at the top of the pole sign or on the canopy ie the fuel sign and then goes to the shop.
According to Experian data, there are 7,395 shops on 8,354 forecourts in the UK, and Londis has overtaken Spar to be the biggest fascia on the forecourt. However, Spar has the highest market share at 16.1% versus Londis' 12.6%.
A recent coup for Londis was the signing of Top 50 Indie the Kay Group's 23 forecourt stores. The move followed a six-month trial, in competition with two other symbol groups, with Booker ultimately winning a five-year supply contract for the whole Kay Group estate.
The switch to Londis is now complete with all stores having had a full review and relaunch which has seen the introduction of more products, 'great value everyday' prices, 'deep cut' promotions and additional services such as food to go, coffee and a range of slush drinks, along with a wider range of both fresh and frozen foods.
Richard Cox, managing director of The Kay Group, said it had been a great experience working with Londis on the project. "With the changes within the Londis brand structure, and through our test sites with the brand refresh, product range, margin, availability, along with a delivery structure to meet our sites needs through 24hr trading, we are delighted to be back with Londis and the team. We are confident this move allows us to create state-of-the-art forecourts in high traffic transient sites that are completely in-line with current customer needs."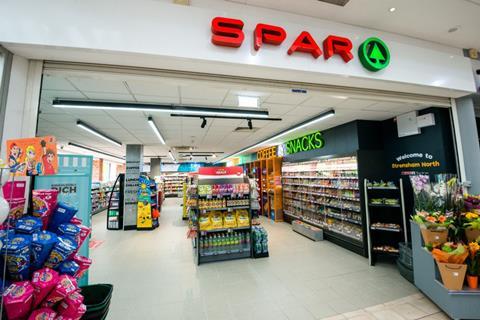 Spar's new look
Spar's latest store design can now be seen at Roadchef's Strensham North services on the M5 northbound, between junctions seven and eight.
The 1,900sq ft store has undergone a huge transformation with a considerable investment from Roadchef.
The chilled and food-to-go area has seen the greatest change with the design generated to create more in-store theatre. The use of colours, materials and neon lights help to highlight the units. Additional food-to-go units include Chicago Town Pizza, Hudson Hotdogs, F'real Milkshake and a Squishee machine.
The store also has two Costa Coffee machines and a bakery unit.
Other shopper missions catered for in the store are Meals for Later via with a comprehensive range of chilled foods and Making a Meal, where the store stocks a range of frozen food including Cook frozen food for the first time.
All low-level refrigeration at Strensham North has been replaced with more environmentally friendly high-level units on the perimeter walls of the store. This is part of Roadchef's aim to improve energy efficiency and the running costs of stores.
Speaking at the store launch, Kevin Whitehouse, retail, procurement and supply chain director at Roadchef said: "We spent a great deal of time analysing what offer and design would best suit customers visiting motorway services at Strensham North with the team at Spar and we are delighted with the result.
"We originally chose Spar for their industry-leading store design and customer understanding, together with the strength of their brand and distribution platform."
Meanwhile, Top 50 Indie MPK Garages recently announced it was moving 17 more stores to the co-branded Pop-In Daily/Nisa fascia. This follows the successful switch of 11 former Morrisons Daily stores earlier this year.
MPK says the retail focus centres on food-to-go and chilled offerings, to provide customers with an enhanced shopping experience. There is also a wide selection of Co-op own brand items across all categories.
Wayne Harrand, retail director at MPK Garages, said the initial transition of the 11 Morrisons stores was a seamless process and resulted in a positive performance. And this led to the decision to migrate the remainder of MPK's store portfolio to the Nisa supply chain. Harrand praised the Nisa team for its productivity and emphasised the strong platform they have provided for future growth within local communities.
Victoria Lockie, head of retail at Nisa, comments: "We are seeing some fantastic growth across our forecourt business at the moment and this partnership with MPK further strengthens our development in that particular market."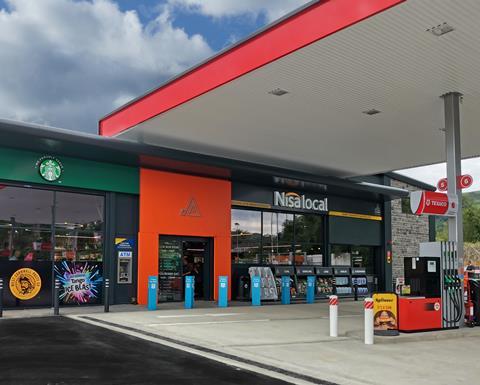 Committed to Nisa
Another Top 50 Indie, Ascona Group, has also committed to Nisa. The Group has just reopened Machynlleth Service Station in North Wales after a £3m redevelopment. That redevelopment included expanding the site's existing Nisa Retail store, to offer an extended range of products and food-to-go offerings.
Ascona Group CEO Darren Briggs, says: "Ensuring our forecourts provide our customers and the local communities in which we operate with a first-class roadside retail destination is at the heart of what we do at Ascona, which is why we choose to partner with operators like Nisa.
"We have had a long-standing relationship with Nisa who are one of our key suppliers to our forecourts across the country. Today, all of our 62 forecourts are supplied with grocery and Co-op branded products by Nisa. Our partnership has gone from strength to strength, and we look forward to continuing our work together to serve our customers."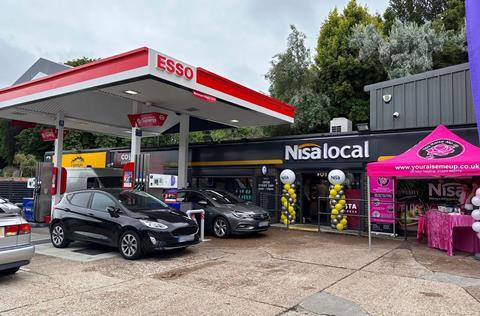 Nisa conversion
Meanwhile, Sussex-based Pricewatch is in the throes of converting all its stores to the Nisa Local fascia. Last month its Old Town Service Station in Eastbourne reopened with the new fascia, following a refit.
Paul Salvidge, director at Pricewatch, said the new look was proving to be a huge success with existing customers plus it was winning over new customers.
"A key priority of the store was to expand product choice for customers. The refurbished store now has an extensive range of new products, promotions and services including the introduction of food to go with Country Choice and Swan Bakery, Uber Eats and plans to expand with Deliveroo."
Other new brands include Costa Coffee, Rollover Hot Dogs and Skwishee.
The store is one of four Pricewatch forecourts already rebranded as a Nisa Local, with plans to expand the symbol fascia in the future.
"Nisa has been a fantastic support throughout the refurbs by providing merchandisers to support our team, suggesting new product ranges and planning the shop layout effectively to achieve the best format for customers," Paul says.
Kevin Lear, store development manager at Nisa, adds: "We have successfully transformed the spaces across all three of the forecourt stores, all undergoing considerable changes with both the store layouts and offering. The spaces were all updated into a more usable and customer-friendly environment and appear extremely modern and contemporary."