The Britvic report hailed forecourt and convenience retailers and their stores as the lifeline for many through the pandemic – proven by the sector's growth as shopper habits shifted and evolved.
Britvic's latest Soft Drinks Review has identified an £812 opportunity for every convenience store through the functional wellness drinks segment, as almost half of people (47%) agree they will eat more foods to support their immune systems going forward.
One in five people have begun taking vitamins since the start of the first lockdown, with 66% of consumers stating 'added ingredients to make it healthier' as important vs 60% pre-COVID and 27% want to reduce sugar - signalling Purdey's as perfectly placed to lead the functional wellness segment.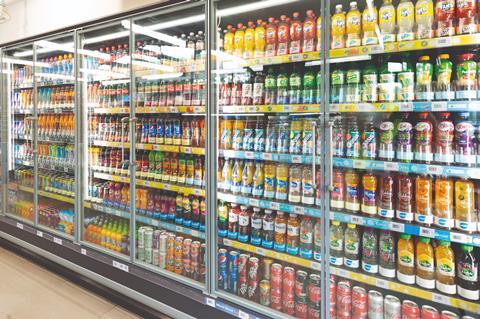 The forecourt sector was the fastest-growing channel in the soft drinks sector last year, according to the latest Britvic Soft Drinks Report, which identified an £812 opportunity for every convenience store through the functional wellness drinks segment.
Forecourts, independents and symbols were the big channel winners, with forecourts growing fastest at +8.2% to £227.4m, with soft drinks in a quarter of baskets;, while travel tumbled by two thirds of its value (-60%). Symbols and independents added the most value to the channel - £98.8m.
Reena Bilakhia, Britvic's head of Category Management – Convenience, said winners in the convenience channel – the ones that outperformed the market – were the ones best able to adapt to the shift in shopper missions and provide the essentials for those planned and main-shop missions, with symbols, independents and Co-op driving channel performance. Those channels offering take-home formats won, which accounted for the success of forecourts.
"Forecourts were the only channel to grow market share in food-to-go missions and continue to capture that transient footfall – 27% per cent of us walked to a forecourt last year, showing we were using that channel in a very different way.
"Forecourts grew through take-home offerings as consumers were using them a lot more as convenience stores so they were able to capitalise on that more transient mission," explained Bilakhia.
"In terms of categories that won in forecourts, we saw the classic stimulants and carbonates grow, but we also saw mixers grow, so there was a real appetite for consumers using forecourts for not just transient on-the-go use, but also for take-home use, and that was really pivotal to why they grew."
She also highlighted the 20% year-on-year growth in forecourts as a 'lightbulb' moment for retailers, particularly with more people walking onto forecourts, and the transition to electric vehicles where people are likely to spend longer on site as their cars charge.
"But it's not just about the front of store," stressed Bilakhia. "You also have to think about the back of store. More forecourt retailers are using apps such as Deliveroo to tap into that take-home market, so even if they don't have the physical space, they have a way to get those take-home offers, and that really makes forecourts competitive compared to the likes of symbols and the rest of the convenience market."
Bilakhia said convenience stores did well during the pandemic as they offered an alternative for those who preferred not to travel or to queue in supermarket: "They really saved the day, they gave locals easy access to top-up on essentials and became a real destination for services such as picking up a parcel, and propelled themselves as the shoppers' local lifeline."
Meanwhile, Britvic's latest report reveals the functional wellness drinks segment as presenting the convenience channel with a healthy £27m opportunity this year, equating to an additional £812 per store. At a time when the pandemic has shone a light on health and wellness for many, 37% of people are now positively interested in premium soft drinks with added benefits.
The report says that owing to changing shopper behaviour during the pandemic, categories traditionally associated with food to go were heavily impacted – but a focus on wellness as restrictions continue to ease is set to help retailers regain sales in this area of soft drinks. While overall the category experienced value and volume declines in total convenience last year, take home, larger format soft drinks were one of the channel's outstanding performers. Reaching a third of soft drinks sales and growing 19% (+£117.9m), the performance cemented 2020 as a year of two halves for the category.
While healthier alternatives such as low- and no-sugar options have been gaining ground for some time, the pandemic has shone a light on health and wellness for many. The report claims 64% of consumers are prioritising health and seeking to integrate wellbeing into nearly all aspects of their lives, including food and drink.
Phil Sanders, out of home commercial director at Britvic, said: "The functional wellness market is currently worth an impressive £240.1m, and what's more, shoppers are willing to pay more than double the average price for premium soft drinks with added benefits than a soft drink or 34% more than the average single-serve, which is already priced at a premium.
"It's vital that retailers are adapting their ranges accordingly to take advantage of this shift in consumer demand. Purdey's, the UK's leading sparkling vitality brand, is perfectly placed to lead the wellness soft drinks category. Made with naturally sourced ingredients - real fruit juice, boosted by botanicals and energising B vitamins - it offers a no added sugar energy lift, something we know shoppers are on the lookout for."
The Britvic annual review revealed that the pandemic changed consumers' lives unimaginably and impacted shopping habits in ways that could never have been imagined or forecasted. As millions switched to working from home, lunchtime trade suffered. At the peak of the pandemic in April 2020, 60% of convenience shoppers were working from home, relying on home kitchens for meals. This move created a change in dynamic for shopper missions, with planned top-up shops becoming more important at the expense of on-the-go food and drink.
Sanders stressed: "As supermarkets and online adapted to increased demand in the first lockdown, discounters and local convenience stores all benefited. Shopping habits shifted sharply from little and often, to less frequent, bigger baskets, with planned top-up missions growing in importance from 18% in 2019, to 24% by October 2020 - indicating consistency of new shopper habits even after the initial period of lockdown. Good news for retailers who have adapted their stores and offerings to cater to the needs of local communities."
The top-up mission accelerated its position as the number one reason to visit a convenience store and the share of planned top ups grew. As the pandemic set in, out-of-home soft drinks declined as fewer shoppers (-23%) bought less often (-12%).
The report reveals that three key soft drink needs emerged last year, with 'energy boost', 'in-home refreshment and socialising' and 'a new stance of hydration' heavily impacting category winners. The top-five soft drink segments remained as cola, stimulants, fruit carbs, plain water and juice drinks – the former three added £80.3m growth alone – but stimulants was the star contributor by far.
Sanders concludes: "As they adjusted to the 'new normal', consumers sought 'pick me ups' and stimulants, the leading soft drinks category in convenience, were well placed to benefit. As the channel's biggest success story, stimulants grew in both take home and on the go, bucking the single-serve trend and adding £57.2m in value. Outgrowing all other soft drinks combined, the segment attracted shoppers to buy more volume per trip at a higher price, performing especially well in symbols and forecourts."