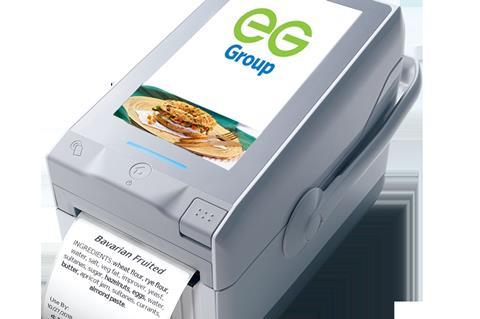 EG Group has partnered with auto-ID and labelling solutions specialist SATO, to deliver complete end-to-end food safety through its innovative FX3-LX label printing solution.
With around 6,000 sites and working with many premium brands across Europe, North America and Australia, the Blackburn-based Top 50 Indie needed a cloud-connected database solution that would create brand uniformity and deliver accurate track and trace technology to improve food safety processes on a global scale.
"EG Group prides itself on investing in innovative solutions to deliver world-leading customer service," said Inge Visser, brand manager at EG Group. "We chose SATO's latest FX3-LX label printer as its benefits were clear when it came to food safety. Since our biggest challenge was to create brand uniformity in our Go Fresh bakeries, the FX3-LX not only helped to improve customer service by reducing internal errors, but it also provided excellent standards of food safety through its accurate registration processes."
The successful partnership with SATO has enabled EG Group to install the FX3-LX printer in more than 30 newly built and partially rebuilt Go Fresh bakeries across Europe. With the help of 14 pre-set videos located on the innovative device, the company's employees were able to connect to a local database to update and maintain all bakery products on a regular basis, ensuring brand uniformity.
Visser added: "Thanks to its ease of use, the large 7-inch colour touchscreen on the printer provides categories that are quick to navigate, helping our employees search and locate products at speed. Preparation times and 'best before' dates ensure quick and accurate processing of food, while the anti-microbial casing and easy clean, splash-proof design means it also adheres to our health and safety policies. With the SATO FX3-LX, we have a complete solution in our stores that enables us to deliver the freshest produce at the highest quality to our customers."
EG Group is also planning to use both the SATO Application Storage (SAS) and SATO Online Services (SOS) applications, making it even easier for its teams to update the menu database from one location, increase on-site support for store managers, and monitor the printers 24/7 to prevent any issues before they arise.
Siham Hanchaou, account manager Food Safety Labelling at SATO, commented: "It's been a pleasure to work with EG Group and support its global operations with the implementation of our next-generation printer the FX3-LX. The application enabled printing technology housed within the FX3-LX is the perfect choice for the company's food-to-go bakery range as it improves efficiency, accuracy and delivers full food safety assurance."