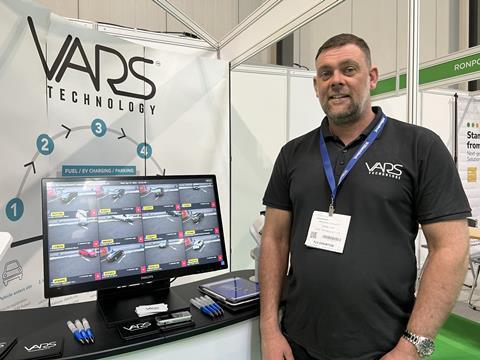 A growing number of forecourt operators are using the 'world's most advanced forecourt protection and parking solution', according to Vars Technology director John Garnett, who was making the most of the retailer audience at last month's Forecourt Show.
There have been numerous attempts over the years by different companies to prevent drive-offs - mostly not very successful - hence the people behind Vars - Vehicle Awareness Recognition System - saw a gap in the market.
"We started developing a system that reads every vehicle as it enters and exits the forecourt," explained Garnett.
"It sits behind the tills and monitors every single vehicle that drives in. If a vehicle has committed a drive-off it will go onto our global blacklist. If the vehicle drives in to a forecourt it sets off an alarm to the cashier, who gets an advanced warning that the vehicle is known for drive-offs, no means of payment (NMOP), aggressive behaviour, retail theft, fly-tipping - whatever reason it has been blacklisted for, that is shown to the cashier. So proactively it stops the drive-offs before they've even happened.
"When a vehicle does do a drive off - it has to do at least one to get onto the blacklist - you can then go and chase the money as well."
Garnett claims a big selling point of the system is the very fast and simple way for forecourts to pass that drive-off information back to Vars. They can do it through the company's web portal or they can do it through a tablet. To report a drive-off apparently takes less than 30 seconds, and a NMOP takes less than two minutes.
"The reason quick NMOP is important is because some systems take ages to put all the details in," said Garnett.
"If a customer comes to the service station and has genuinely forgotten their purse/wallet - which does happen - they're going to be a bit embarrassed. So the least amount of time you can keep them there, the better - both for the customer and the cashier. Plus you don't want a queue to build up in the shop or the forecourt.
"We then go and chase the money - we go to the DVLA if it's a drive-off, get the details and start pursuing the vehicle for fuel theft."
If the car has false number plates, the system will keep blacklisting them, so the cashier will be alerted if that car has been used before with false plates. There's only so many combinations of plates that can be tried in a particular area, according to Garnett, so sooner or later they'll be flagged up.
"What we find is that the people who want to steal fuel just want an easy crime. They don't want any blocks or obstacles, anything in the way. So if something doesn't seem right to them, they'll just go somewhere else.
"That's how our system is so effective because if you pull up at a pump, and the cashier says, would you mind coming to pre-pay, if the person at the pump has got no intention of paying anyway, he's not going to pre-pay he's going to drive off to another garage.
So in effect we're moving the driver around to different petrol stations that don't have our system. Sooner or later the ones that don't have the system will be the ones targeted for drive-offs the most."
From a recovery point of view Garnett claims they're getting 80% of NMOP paid within three days; a further 15% paid within two weeks; and anything that's not paid within two weeks then becomes a drive-off, because they've obviously got no intention of paying.
"We then go the DVLA to get the correct details, and go through two letter cycles - one letter giving the opportunity to pay; and after that we send a debt collector in. They have a really good recovery rate! What we find is that over that period, in the space of about six to eight weeks, we get 80% of drive-offs paid."
"We started developing it about five years ago, and introduced it to retailers about three years ago," said Garnett. "The Vars system is currently installed on about 800 forecourts in the UK, with different tiers depending on need. About 150 sites have the full system.
"The cost of the full system, depending on the number of cameras needed - most petrol stations have one entrance and one exit, so would need two cameras - with all the networking, touchscreen and tablet, would be about £4,500 and then £50 a month. Which is not that expensive, and we are saving people fortunes!"