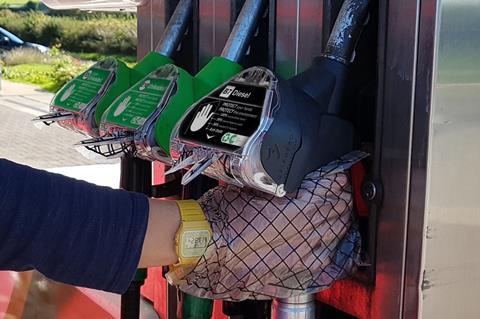 GripHero, which provides on-the-nozzle gloves, is urging drivers preparing for the big summer getaway to wear gloves at fuel pumps to help prevent the spread of Covid.
Oli Yeo, inventor of GripHero, commented. "The latest variants of Covid-19 have been shown to be some of the most contagious yet and are tearing their way across the UK. With a busy summer ahead, and warnings from experts that hospitalisations are expected to rise, there's a need for all of us to take extra precautions.
"The good news is that almost all UK fuel stations provide gloves for the health and safety of their customers. Wearing gloves before you pick up the fuel pump handle forms a physical barrier between your hand and whatever the drivers in front may have left on that surface.
"Given that you'll be tightly holding a surface that has been gripped by hundreds of other drivers for up to three minutes, we simply ask that drivers 'glove-up' to protect themselves and their loved ones. It's the only certain way of stopping the chain of transmission dead in its tracks."
And he warned that Covid was not the only potential danger from petrol pumps adding: "As a rule, fuel nozzles are highly contaminated. They're home to antibiotic-resistant bacteria, Group 1 carcinogens such as benzene, to which there is no safe level of exposure, and of course, notifiable diseases including, but not limited to, Covid. The only way to stay truly safe from these hazards is to wear freely provided gloves, making it a necessary addition to your refuel-routine all year round."
According to GripHero a 2020 University study, which took 100 samples from 25 forecourts, acknowledged that "an individual can get Covid-19 by touching a surface that has the virus on it and after that touching their own mouth, nose, or conceivably their eyes."
Yeo said: "You only have to look at drivers in traffic to see how frequently they touch their face, rub their eyes, eat food on the go, or even hand food to their children after refuelling, That creates a direct path for bacteria, diseases such as Covid, or harmful chemicals if you don't use gloves when you refuel.
"This one simple act could help to slow the rapidity of the spread of Covid this summer, which can otherwise leap hundreds of miles in a matter of hours and sit secretly on fuel pump handles; a surface which has been proven to be over 11,000 times dirtier than the average toilet seat. It's a simple step that should become routine and help keep people healthy as they enjoy their summer break."
GripHero estimates that 500 million motorists already protected by its on-the-nozzle glove solution.
For more information on GripHero call 01837 811 035, email info@griphero.com or visit www.griphero.com.