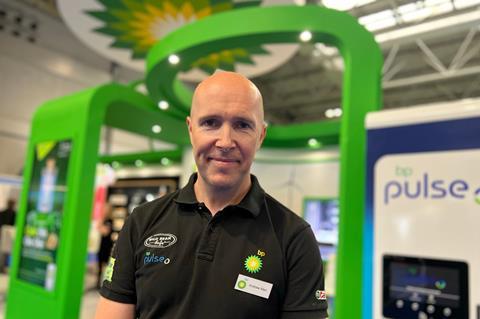 Volkswagen's innovative Flexpole charging unit, which BP is using to transform access to a fast-charging network, features an integrated battery storage system, and was one of the big talking points at the Forecourt Show this year.
It was described as one of the biggest innovations in EV charging you will see anytime soon on the forecourt, by Andy Allen, BP's UK sales manager who confirmed that BP is seeking to roll out more than 500 chargers on dealer sites over the next few years.
The two BP-branded Flexpole chargers on offer – 150KW and 120KW – overcome one of the biggest obstacles to forecourt retailers being able to provide EV charging facilities for the growing population of EV drivers. The flexible battery-based chargers can be installed rapidly, as they do not require high-power grid connections.
"If you think about the problems a lot of people are going to have putting chargers on forecourts, it's about available power," said Allen. "If you want to offer ultra-fast charging, you're going to need 150kW of power which comes at a high cost to get the connection to some sites.
"We've been considering battery buffer chargers which are constantly trickle-charged and can charge cars at 150kw. So the retailer can offer an ultra-fast charge with as little as 20kw input power."
The Flexpole charger has been developed by VW. The two companies recently announced strategic partnership which aims to rapidly build a fast-charging network across Europe.
"We have available two different types of battery chargers - the Pulse 150, has a 196kw battery, which is more than three times the size of the battery used in the UK's bestselling EV, the Tesla Model 3.
"It charges using 40kW input power. It trickle charges constantly, and can charge two cars at greater than 100kw at the same time.
"It'll do more than 20 charges back-to-back-to-back… while continually recharging itself. Retailers would only need a low-power grid connection. The BP Pulse 120, produced by Freewire, takes as little as 20kW input power. One of good things about the battery chargers is that they're not putting strain on the grid through drawing high-power, they're taking a continuous low power feed and storing the power."
Allen said there is a range of agreement options for retailers – of any hue, not just BP-branded sites – from fully funded by BP to fully funded by the retailer. The key concern for retailers offering EV charging is profitability, but Allen stresses: "Whatever the agreement, dealers are guaranteed a minimum return."
"Ultimately, we need forecourts to be recognised as the place to go for fast charging. We want to provide the fastest, most convenient charging to our EV customers and this new technology enables us to rapidly deploy a network."