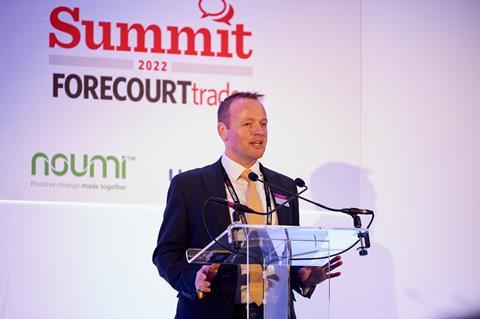 Steve Rodell, managing director, retail at Christie & Co, told delegates at Forecourt Trader Summit 2022 that the Covid pandemic – when fuel volumes dipped and non-fuel sales boomed – had given us a glimpse into the future, a future that included more and more EV charging.
"The explosion in interest in EV charging shows it's coming, there is no doubt about that. The difference from two years ago to now is that these guys are actively targeting sites. There are agents, valuers, investors, developers - you name it - I am getting interest from all over the place saying 'we want a half-an-acre to an acre site to develop an EV charging centre'. As a consequence we are seeing the highest level of demand for sites for many years whether they are for current use now or alternate use in a few years' time. There is a bit of a land grab going on."
With regards to EV charging, Rodell added a caveat: "It is all about the power. There is no point in going for this kind of model if you can't get the grid connections to receive a fast charge. You'll be quite lucky if you are able to put super charging infrastructure on your petrol filling station, you've got to have the space, you have got to be near to a charging network, you've got to have the capital to do it. But it is coming and people might be interested in your site for that reason."
He continued: "I still question whether EV charging is applicable to every site. Can your site physically accommodate charging, what is the ROI, will it impact your other revenue streams negatively or positively? This is not a one size fits all exercise. I don't think most sites will suit EV charging in the long run so you have got to speak to the experts. If not, could you redevelop your site into something else? A standalone c-store or a block of flats? They are valuable pieces of real estate, usually in a good location, so you need to start looking at what the options are now so you can make decisions in the future."
Questions owners needed to ask now include should they maximise the trading potential of their site over next few years? Should they invest or sell? Rodell said the market is great at the moment, but he didn't know how long that would last.