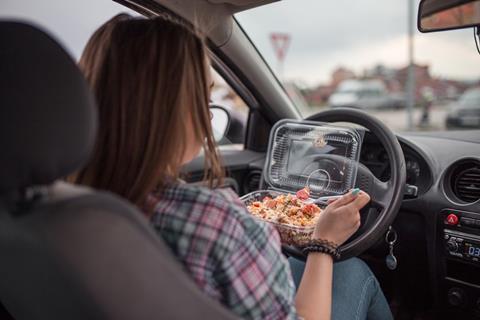 We've all heard of the term 'all-day grazing' but perhaps didn't realise how relevant it is to the forecourt retail environment – until now. Fresh Food For Now (which owns food-to-go brands including Ginsters and Urban Eat), recently carried out in-depth research into food-to-go which revealed a total of 14 distinct food-to-go missions – plus one more for forecourts: all day grazing.
Anna Bond, senior customer marketing manager at Fresh Food for Now, explains: "This trend is particularly pronounced within the forecourt channel. Customers are increasingly visiting forecourts and engaging in this all-day grazing mission, wherein they not only opt for the conventional three-piece meal deals, but also indulge in additional food and drink items, such as sweet treats and extra beverages, all within a single purchase. This allows them to spread out their consumption over an extended period, making it especially appealing for activities like long drives.
"At Fresh Food For Now, we embrace these evolving patterns and tailor our offerings to accommodate all day grazing, ensuring that our customers enjoy a diverse range of options to suit their changing preferences and lifestyles."
Fresh Food for Now's research identified the top three drivers of food-to-go selection as taste, quality and price.
Says Bond: "While affordability is undoubtedly crucial, it's important to note that exceptional taste and uncompromising quality hold significant weight in the decision-making process. In today's economic climate, price understandably carries weight, but it must always be accompanied by the assurance of delicious and high-quality offerings; otherwise, the value diminishes."
When it comes to what constitutes a good food-to-go range, Bond says it is imperative to offer solutions that cater to different times of the day and missions, encompassing breakfast, snacks and lunch – and that important all-day grazing.
"A successful food range should encompass both hot and cold options, providing variety to meet diverse preferences. Equally crucial is tailoring the range to resonate with the specific consumer base and location. We emphasise crafting offerings that align with local tastes and preferences, ensuring relevance and appeal. At the heart of our approach is the commitment to delivering a top-tier lunchtime experience. We recognise the importance of the sandwich in fulfilling lunch occasions, complemented by enticing meal deals that incorporate a diverse selection of beverages and snacks."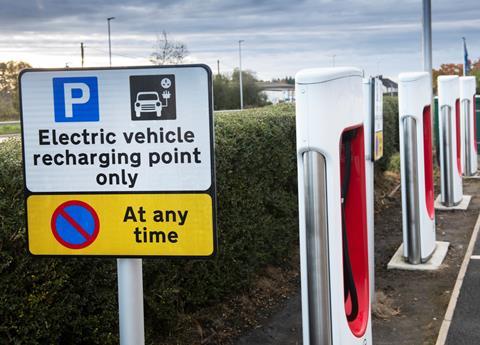 The EV effect
We all know how many forecourts are shifting operations to include EV charging alongside petrol and diesel but do food-to-go choices need to shift too?
Bond says: "EV drivers are likely to be much more discerning about facilities on offer to them. With an extended stay, EV drivers will pick a location based on range of offerings available to them."
She points to the company's survey which found that EV drivers are significantly more likely to choose a location if it has quality hot drinks; hot food; a good range of options throughout the day; good value for money including meal deals; and healthy options.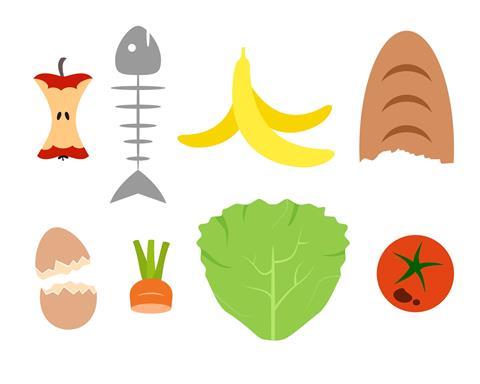 Delicate balance
With all fresh food there is always that delicate balance of range and availability versus potential wastage.
"We tackle this challenge through a multifaceted approach, combining data-driven insights and strategic communication, this is in turn helps reduce wastage," explains Bond.
"We start with Day One for Day Three communication – leveraging historical data and incorporating real-time performance metrics and even variables such as weather forecasts to inform ordering decisions. This ensures that our forecourt partners maintain optimal stock levels while minimising unnecessary waste. To further enhance this process, our ordering portal provides a user-friendly interface for our clients, with access to a range of support options. We take pride in our Day One for Day Three delivery system, offering flexibility with deliveries up to seven days a week, and featuring low minimum order quantities to drive engagement with our customers' food-to-go fixtures.
Big deals
Meal deals are an integral cornerstone of Fresh Food for Now's customers' food-to-go offerings and Bond says they can significantly influence their success.
"The majority of our clients rely on these deals to attract and satisfy their customer base. Within our extensive range, our sandwich brand, Urban Eat, takes centre stage as the primary choice for the main item in these meal deals. We enhance this choice with dedicated meal deal pos materials to ensure customers are well aware of the great value they on offer. To broaden the appeal and cater to diverse preferences, many customers opt to include additional items like Ginsters Savoury Pastry, a favoured option according to market research.
"This expansion of offerings aligns with customer desires and extends the potential for increased frequency of visits across various shopping missions. This versatile approach also plays a pivotal role in targeting other meal deal outlets, such as major supermarkets, where variety is key. By adjusting drink options, including hot beverages, and diversifying snack choices, we amplify the appeal of the meal deals, appealing to both sweet and savoury preferences, as well as catering to those seeking indulgence or healthier alternatives."
Bond says Fresh Food for Now can support retailers with recommended ranges and planograms. "Whether this is around our top 10-20 best-selling Urban Eat products to total food-to-go solutions, we can work in partnership to review across different sized fixtures, meal deal overlay or geography. For several of our customers, we cluster their stores by size, demographic and location, which creates agreed ranging for each cluster to support ordering profiles which is supported with planograms to ensure compliance in store."
Once you've got your food-to-go in place it is vital to communicate its availability.
Says Bond: "At Fresh Food For Now, we understand the importance of effectively highlighting a compelling food-to-go offering within forecourts. To achieve this, we provide comprehensive support through various strategies. By strategically placing eye-catching pos materials at key touchpoints along the shopper's journey, we ensure that our retailers' offerings are impossible to miss.
"A wider range of messaging outside the store to entice potential customers and guiding them toward a dedicated food-to-go zone is key. Our approach is versatile; we offer both generic branded messaging as well as tailor-made meal deal promotions, catering to diverse customer preferences. Additionally, our support extends to the digital realm, where we engage with customers through social media and other online platforms. Our mission is to empower forecourts with the tools they need to effectively communicate their exceptional food to go offerings, turning curious passers-by into satisfied customers."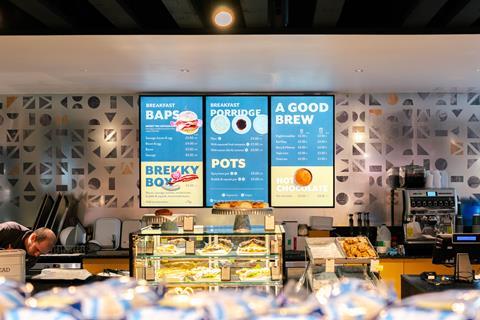 Investing in food to go
When Junction 38 on the M6, aka Tebay's Truckstop, recently had an extensive shop makeover, food to go was a priority. As a result, The Filling Station Shop, which serves both HGV drivers and the local community, now includes a hot food counter serving everything from Breakfast in a Box to Pie,Mash & Gravy.
Filling station category manager Carl Norris says that before deciding what to include in the new food-to-go offer, they visited lots of food-to-go and street-food vendors in Manchester, London and Dublin to look for trends and take learnings on flavour profiles, menu, portion size and prices. "We also had to consider how the proposed menu would tie-in with our Sourcing Policy as this is something we're proud to adhere to," he explains. Tebay's Truckstop is a Westmorland family owned site where they like to source 'honest, authentic' ingredients and try to stay as local possible which is why the consideration was important.
Offering quality hot food can be labour intensive but Carl says they have invested in the latest kitchen and hot-hold equipment to drive efficiencies while the food development team has worked with site colleagues to demonstrate best practice, train and develop core skills, and provide continuous coaching and feedback. "With the investment in technology and learning and development we've found we haven't had to increase our combined retail and forecourt team labour much."
He adds that to maximise availability and meet demand, while keeping waste to a minimum, they cook little and often, using the best-in-class hot hold equipment to maintain freshness.
The site trades 24 hours and Carl says they tailor the menu to have a hot option available at all times.
"Breakfast ramps up from 6am but we will still always make things to order to please our customers. We have a breakfast menu from 6am to 11am when we then move into lunch and continue this through to 4/5pm but after that we'll have hot pies, sausage rolls and food to order available."
It's early days but Carl says they're already seeing positive sales with the Hot Dog made with a Cumberland sausage from Tebay Butchery in a More? Bakery finger roll being the hero product.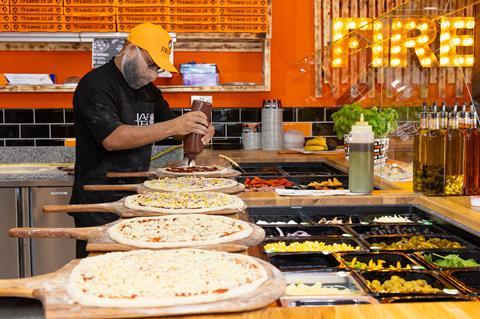 Whitfield's pizza offer
Hot food is a big deal in food to go so when redeveloping Whitfield Service Station in Dover, owner Mr K Rajaseelan wanted a food-to-go proposition that would really stand out.
Inside the new, larger Budgens store on the site he installed a new Country Choice ready-to-go food counter. This offers 12-inch baguettes and sandwiches with a choice of fillings plus takeaway salads. But in addition to this, he has a new Fireaway Pizza outlet. He says it was chosen because it is a fast-growing brand in the UK and he was keen to work with a quality product.
It is a franchise operation but the outlet is owned by Mr Rajaseelan. He says the fit-out was easy thanks to Fireaway's expertise and the skill and commitment of the builders.
Fireaway runs an extensive training programme and key staff at Whitfield had to complete that training before the outlet was allowed to open.
The pizza outlet is open from 11am to midnight on weekdays and until 2am the following morning on Fridays and Saturdays.
Fireaway's menu includes the Firestarter which comprises one signature pizza, one side and one soft drink for £15.95;
There is also the Fire Us Up which is two signature pizzas, one side and one Coca-Cola or Diet Coke 1.25ltr for £26.95 and Family of Fire which is three signature pizzas, one side or kids' pizza and one Coke 1.25ltr for £34.95.
As well as drive or walking to the site, customers can get deliveries via Deliveroo, Uber Eats and Just Eats.