A replica F1 Ferrari is mounted on the ceiling of Exelby's A19 North site - but that's not the only thing that makes the Forecourt Trader of the Year 2021 winner stand out from the crowd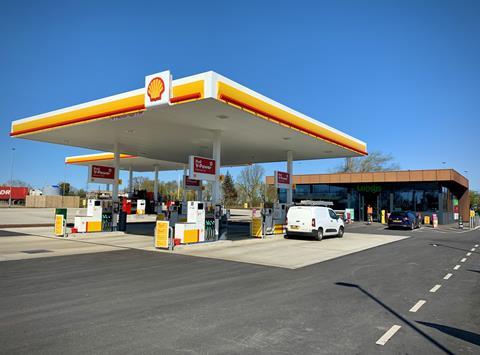 When Exelby Services A19 North was named Forecourt Trader of the Year 2021, the company's MD Rob Exelby was actually tucked up in bed.
Unfortunately, due to a bug, he hadn't been able to attend the Awards ceremony in London. "One of the team sent me a video of us winning Best Site in the North and I was delighted as I had actually thought that we had a good chance of winning that," he says. "But when I got the video showing we had won Forecourt Trader of the Year, that was completely unexpected. We're quite a small company with just five sites and we were up against some big names so it was a bit of a shock. But it's fantastic to be recognised."
Rob's grandad Ron originally bought A19 North back in the 1960s so by 2019 it needed a refresh. "It had a small shop and a crumbling forecourt," says Rob, "so we decided on a redevelopment."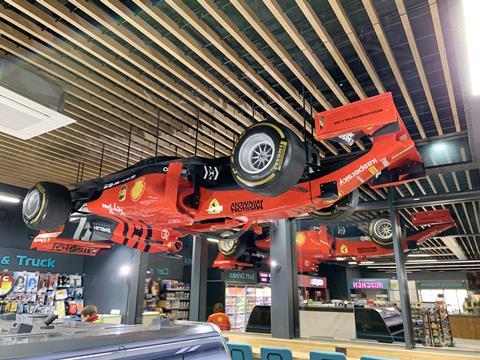 Exelby is part of the Hazelwood Group, with the likes of Ken Kay, Patrick Sewell and Graham Kennedy, and Rob says he got a lot of inspiration from them about what to do with A19 North. "I am relatively young (34) so I get a lot of help from them. We have great brainstorming sessions where we are completely open and honest with each other and as we are fairly well spread out, we are not direct competitors."
It was actually Graham Kennedy who inspired Rob to put the Ferrari replica on the new shop's ceiling. "Graham is known for his love of sci-fi which is evident across his site. I'm a bit geeky and am into motorsport so I thought what can we do that's different and we came up with the idea of the Ferrari on the ceiling. We don't see ourselves as just a Shell dealer but as a brand ambassador and you can't get anything better than the affiliation of Shell and Ferrari Formula 1.
"We found a company in Hungary that could make us a replica for £20,000. I'm not sure if that's a good price for a replica but it's cheaper than a real Ferrari."
Of course rigorous testing was done to ensure it was securely in place on the ceiling. "It's amazing really because some people come in just to see the car but others don't notice it at first. They may be walking in on their phone with their head down, go to the till and then see it on their way out."
Another show-stopping aspect of the site is the rusty steel exterior. Rob says that again they were looking for something a bit different and ADS Design suggested Corten steel. This is a specific grade of steel that goes rusty but doesn't crumble. The use of steel is also a nod to the historic Teesside steelworks just up the road. Rob agrees that it is very 'Grand Designs' and he gets a lot of comments on it.
The redevelopment started in January 2020 and the new site opened on November 30. Obviously this was all during the first round of Covid but Rob says they got quite lucky with the timings and managed to work around the restrictions. "The whole development went smoothly thanks to the hard work of McFaddens and ADS Design."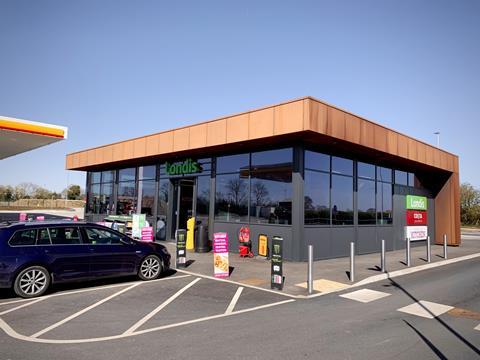 From a personal point of view, Rob is keen to do his bit for the environment.
"We can't change a customer's choice to drive a fossil fuel-driven car but we can work on reducing our carbon footprint and we have a duty to do our bit. For example, we've made use of some spare land next to the truck park and planted over 100 trees to offset the carbon emissions generated on site. We're also planning to install solar PV later in an attempt to make the site fully carbon neutral or even carbon negative.
Exelby A19 North is open 24/7 and the shop is supplied by Londis. "All our stores have been with Londis since Palmer & Harvey folded. They are doing a good job for us." Exelby moved from BP to Shell around seven years ago and Rob says it was a very successful switch. "I believe you absolutely need a strong fuel brand name and we have benefited from the reputation of Shell's V-Power which is a strong performer for us."
During the redevelopment the site closed for just a few months but had a quiet start when it re-opened because of Covid restrictions. "Since everything has opened up again we have really had to compare figures to those we saw in 2019, and versus those we are up 25% on fuel and 80% in the shop. Feedback from customers has been very good whether it's about the F1 car, the steel exterior or our customer service - it's all been great."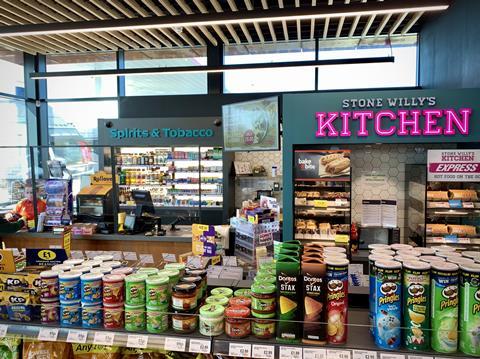 On Awards night, the Forecourt Trader of the Year Award was presented to Rob's dad Michael and to A19 North manager Jonathan Tarran. Michael is still involved with the business and Rob says he is always at the end of the phone to share all the knowledge he has gained over the years. The day after the Awards Rob asked staff to get bottles of Champagne to celebrate. "We have a staff bonus scheme and I expect they will be getting extra pocket money for Christmas. Staff aren't particularly involved in the development but when the site opens it is then that they make the site 'sing'. The feedback we get from Shell on our customer service is always fantastic so we couldn't have won this award without them."
Needless to say, there is no resting on his laurels for F1 fan Rob, as he has a couple more redevelopments in the pipeline including one at his Carlisle site which kicks off next month.
The F1 Ferrari replica on the ceiling is a real talking point
Exelby moved from BP to Shell in part due to Shell's V-Power
The stunning Corten steel exterior is a nod to the historic Teesside steelworks just up the road
Food to go is a big hit in the shop with everything from Costa to Stone Willy's Kitchen plus F'Real milkshakes, Skwishee slush and Rollover hot dogs