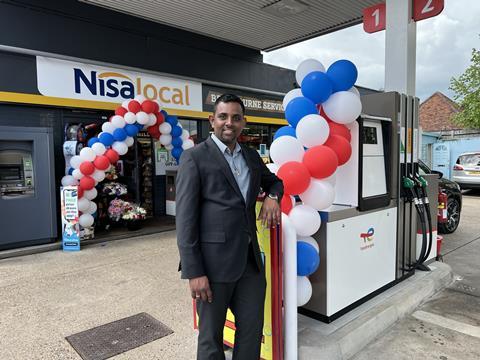 Independent retailer Prem Uthayakumaran enjoyed a 'magical' day last week celebrating the official launching of Broxbourne Service Station following two years of developments to squeeze the most out of the traditional site in Hertfordshire.
The event attracted great interest from customers as well as industry executives, including PRA executive director Gordon Balmer, with official ceremonies conducted by local mayor Paul Seeby.
The site comprises a service station and tiny convenience store, in a residential area off the busy High Road Wormley A117, between Cheshunt and Broxbourne, just north of junction 25 of the M25. Prem – a former MFG contract manager – took over it over, his first as an independent retailer in March 2020, just as the pandemic was about to take hold. It was not the most reassuring start to his dream of being in complete control of his own business, having spent some time looking for the right opportunity, invested his savings and signed on the dotted line for a loan with the bank.
However, he soon found out that there was still sufficient demand to stay open night and day. With the site's proximity and easy access to the M25 and A10, there was plenty of commercial traffic, including trucks, which are easily accommodated on the forecourt. There are also plenty of farms in the area, hence the red diesel pump.
Since then he has gone from strength to strength, establishing his company Pre-Hyrid Ltd, and also buying the lease on two Essar-branded former MPK sites in Nottinghamshire.
On the Broxbourne site he as partnered with Total Energies and Harvest Energy; plus completed a shop re-fit and a move to Co-op and Nisa.
The impeccably merchandised and packed store includes Rollover, Bake & Bite, Fwip; as well as Costa Express, and a comprehensive off-licence. It also provides online collection and delivery.
The final part of the development was the installation of new, modern pumps, boosting speed and convenience for motorists, and including a new fast pump for commercial vehicles.
"I have been or arranged a few store openings in the past for various different companies and this opening was magical," said Prem, who was overwhelmed by the support from everyone.
"Prehybrid want to operate its service stations to the highest standard as possible and maximise customer satisfaction, and as at Broxbourne, for every corner of the space tailored to become influential when a customer visits us.
"We will always remain as a competitive retail business for the local community and we also aim with technology, to reach beyond traditional boundaries."